touch with Gavaskar and ask him if he would want to take up the assignment and also check if he may have any conflict of interest while discharging the role.
The bench emphasised on the "integrity" of the cricketers and the game while regretting nobody seemed to be bothered about values and discipline anymore. "Who is bothered about values? Why will people, who are in power, listen to anyone else? But we realise 'Satyameva Jayate' and the truth shall ultimately prevail. This may take some time, but, ultimately, the truth will come out," it remarked.
The court said that taking decisions could be difficult, but it shall do so in the interest of cricket and in the interest of the nation.
It also said that cricket was not anymore the game that was played with a "straight bat" , as Harish Salve, counsel for petitioner Cricket Association of Bihar, contended that cricket was known to be a gentleman's game that could inculcate discipline.
Salve also accused Srinivasan and Indian captain M S Dhoni of a "brazen cover-up" in asserting Meiyappan was only a sports enthusiast and not a CSK team official whereas the probe panel categorically trashed their "false statement".
He pointed out that CSK and RR will be participating in IPL-7 despite such serious allegations.
On Tuesday, the court had effectively given Srinivasan an ultimatum to step down by Thursday or risk being removed by it. However, as Srinivasan volunteered to step aside, it did not pass any explicit order to this effect but came up with its sweeping set of proposals.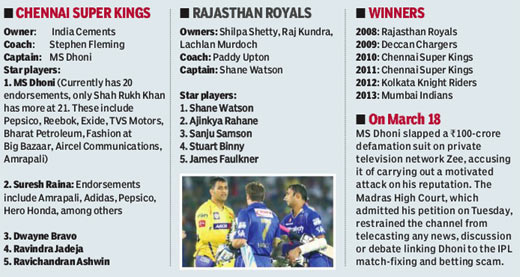 Dhoni in a spot, not spotlight
The role of Indian captain Mahendra Singh Dhoni in the alleged cover-up to protect BCCI chief N Srinivasan's son-in-law Gurunath Meiyappan came under the scanner of the Supreme Court on Thursday. Dhoni is a vice-president at Srinivasan's firm, India Cements, and also captain of IPL team Chennai Super Kings, owned by India Cements.
Harish Salve, counsel for the Cricket Association of Bihar, told the court how Dhoni lied to the Mudgal Committee that Meiyappan was not a CSK official, but only a "cricket enthusiast" supporting the team.
While indicting Meiyappan for betting and passing on information of the game, the panel had trashed statements made to it by Srinivasan and Dhoni that he had nothing to do with the cricketing affairs of CSK. Salve