China today praised Malaysia for its efforts to trace the missing aircraft amid protests from the relatives of passengers on board the crashed plane who accused Malaysian authorities of bungling the probe.
"Malaysia made lot of efforts, since the plane went missing in the search and investigation," Chinese Foreign Ministry spokesman Hong Lei told media answering questions whether the incident has marred bilateral relations.
Chinese government and the Malaysian side will make joint efforts to tackle the challenge, he said .
As the relatives of 154 Chinese passengers on board the crashed Malaysia Airlines plane raised protests over the slow pace of the probe which has not reached any conclusive proof yet, China is insisting that it should be made part of it.  
The issue reportedly figured in the talks between Chinese special envoy Zhang Yesui and the Malaysian Prime Minister Najib Razak in Kuala Lumpur today.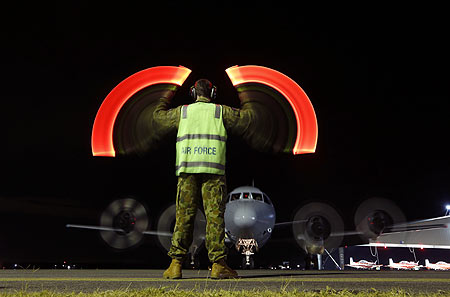 A Royal Australian Air Force AP-3C Orion returns to RAAF base Pearce from a search for Malaysian Airlines flight MH370 over the southern Indian Ocean. (Reuters)
After the meeting, Zhang stressed the urgency of continuing to search with full force for MH370.
Search remained the top priority and must carry on unremittingly, Zhang, who is a Chinese vice foreign minister, said.
He was deputed by Chinese President Xi Jinping yesterday with a brief that Malaysia should make Chinese specialists part of the investigations.
He said the Malaysian side should strengthen information sharing with China and, in a comprehensive and accurate manner, provide Beijing with the information and evidence that led Malaysia to the conclusion that the ill-fated flight ended in the southern Indian Ocean.
Relatives of Chinese passengers demand evidence that the plane had crashed in the Indian Ocean.
Najib, on his part, expressed appreciation for China's support and assistance in dealing with the incident, state-run Xinhua news agency reported.
The Premier said Malaysia would do its best to provide timely and accurate information, and concentrate their efforts on searching in relevant waters of the southern Indian Ocean. He also promised all-out efforts in comforting the family members of those aboard the missing jetliner. Malaysia also handed over to China the satellite data that led it to conclude that the plane had crashed.