Each single monetary policy statement is important, as a gauge of economic conditions perceived by an important policy authority. It is also a leg of the triad, together with fiscal and industrial policy, which shape the environment in which the economic engine works. But this one seems somewhat more special. This review comes after a cohesive political leadership has come to power after more than two decades, a Budget passed which promises to aggressively pursue fiscal consolidation and proposes to change the working environment for productive enterprise and innovation. Very importantly, it is also being framed at a point where the relentless inflationary pressures of the previous four years appear to be gradually dissipating.
This last statement is worth considering in some detail. It is probably best to declare at the outset that a case for cutting the policy repo rate remains ambiguous, if not weak, at the moment.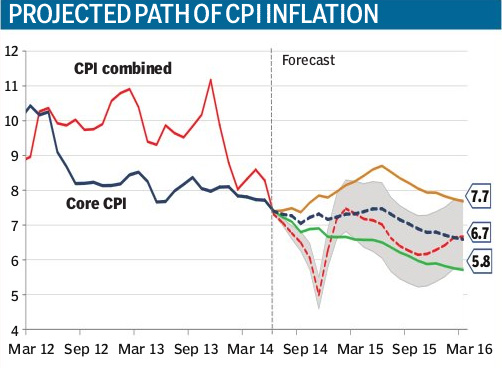 The June CPI data suggests that the inflation trajectory, very likely for FY15 and possibly for FY16, will fall—just—within the glide path envelope suggested by the Urjit Patel Committee and adopted formally as a de facto if soft inflation "target". Some of the exogenous drivers underlying the previous inflationary environment—rural wages, fiscal programmes, labour supply responses—largely remain in place. The potency of others has diminished; minimum support prices of kharif crops have been recommended to be raised an average 1.5% in FY15, substantially less than in previous years. Vegetable prices, for instance, have not risen as much this rain deficient year as the previous normal year. Global commodities prices are expected to remain stable. Credit offtake remains very weak, with growth at 14% till mid-July, and Q1 capex data shows no signs of improvements in new and stalled projects.
But the risks to this presumption (and it is only that) are still very extant. The investment slowdown has probably diminished land acquisition payouts, but this might begin in the medium term once demand for land for new projects revives. Data on rural wages available till March 2014 show a surge in increases, although there is not a hint on what might be causing this; overall growth, even in rural areas. Price momentum, defined as smoothed month-on-month increases in the CPI index, has begun to tick up again. Gradually reviving growth is also likely to push urban wage rates up, before medium and longer term productivity