There is a lot of (noisy) talk about too high expectations from the Budget, and about how there is bound to be severe disappointment because of inconsistent and high hopes. It appears as if the old-fashioned economists and analysts want to be the first to say "I told you so". Often, among forecasters, there is a tendency to go against the herd for the big story. If you get it wrong, you are lost in the din; if you get it right, you are a hero, at least till the next big mistake.
I disagree with this forced pessimism. Realistically, the bountiful mistakes of the Sonia Gandhi-led UPA has provided the BJP with an ideal platform for a win-win, relatively painless budget. A budget in which it is possible, and extremely feasible, that taxes are reduced, subsidies are reduced, the fiscal deficit is reduced, and the bottom half of the population is substantially better off.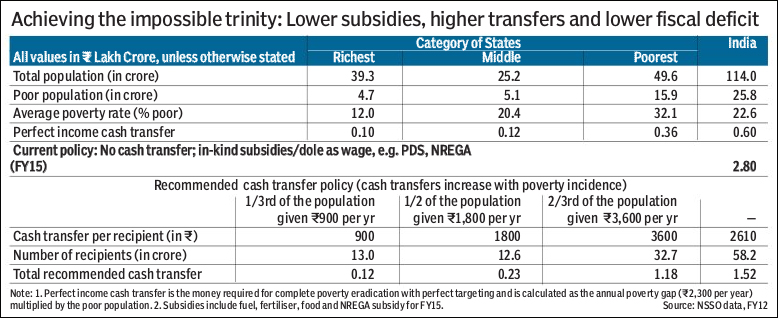 How can this impossible trinity be achieved? The policy answer is straightforward. Perhaps the biggest impetus to a new enlightened policy has come from Prime Minister Narendra Modi's
support for the Congress initiative of Aadhaar. History will judge Aadhaar to be the best policy introduced by the
Congress in the last 10 years.
It is Aadhaar which will make possible a major change in how India conducts its anti-poverty policies, i.e., it makes possible a large shift to cash-transfers as the form of income redistribution. Aadhaar can substantially reduce leakages in redistribution due to faulty targeting. Much improved identification of the beneficiaries can reduce costs and increase benefits. At present, the multitude of public transfer schemes (e.g. public distribution system (PDS) for foodgrains, NREGA food for "work" programme, LPG cylinders at subsidised rates to the middle class, etc) rely on spreading the net wide, involving tons of middle-men and bureaucrats, and praying to an equal multitude of gods that somehow a large fraction of the intended beneficiaries will be caught in the net. The reality, as study after study has revealed, is doubly distressing—the system ensures that a large fraction of the poor escape the net, and those that are lucky, receive precious little of the benefits. As documented by many, and for many policies, the poor rarely receive more than 15 paise of every rupee meant for them.
Even though the technology of Aadhaar is