This is for the first time in the history of independent India that Indian agriculture has given a net trade surplus of more than $25 billion, in FY14. Its agri-exports crossed $42 billion vis-a-vis imports of about $17 billion indicating that Indian agriculture is quite export competitive, as the accompanying chart shows. The Balassa index measuring export competitiveness for agriculture is 1.6 vis-a-vis only 1.0 for manufacturing products, implying that our agriculture is more competitive globally than our manufacturing sector.
India's agri-export basket is quite diversified. But a few need special mention. India has emerged as the largest exporter of rice with exports touching $7.7 billion, second-largest exporter of meat with exports of $4.5 billion and cotton ($3.6 billion), and a large exporter of number of other products ranging from marine products ($5 billion) to oil meals ($2.8 billion), spices ($2.6 billion) and guar gum ($2 billion). The most impressive growth in FY14 over FY13, in terms of size and growth rate, has been dairy & poultry registering a growth of 72%, marine products of 45%, meat and preparations of 36%. Even rice has witnessed a growth of about 25% growth in value terms though the quantity exported in FY14 may be similar at 10 million tonnes as in FY13. This is largely credited to the better price that Indian basmati has fetched this year. Even fresh fruits and vegetables, with a total of $1.6 billion exports, have registered a 29% growth. This is commendable especially in the face of tough SPS laws in importing countries and somewhat weak value-chains that India has. Indian farmers, scientists, processors, traders and policy-makers, who have played a catalytic role in making this happen, deserve compliments and rewards for achieving these results.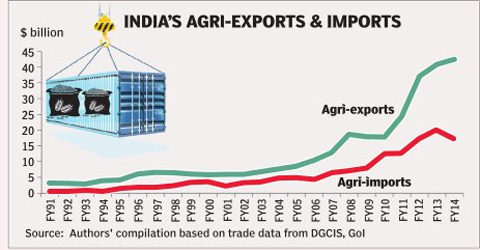 On the import side, much of India's imports are concentrated in a few commodities: edible oils ($9.3 billion), wood and wood products ($2.6 billion) and pulses ($1.6 billion). Interestingly, pulses imports have fallen by more than 30% in FY14 over previous year despite zero import duty, and edible oils by 17% despite import duty of 2.5% on crude and 7.5% on refined oils (raised to 10% w.e.f. January 2014).
But a few interesting things need to be noted and rationalised. While India is the largest exporter of rice in the world, it imposes an import duty of 70% on paddy and 80% on rice,