There are two ways Narendra Modi can run his government. First, carry on with the broad schemes the UPA came up with, just execute them much better, in Modi-style as it were. So, for instance, genuinely ensure PSU autonomy but, like the UPA, don't privatise them as that will upset the trade unions. Two, come up with a completely different paradigm. In the case of PSUs, to stay with the example, that will happen if all government shareholding is transferred to a Temasek-type fund where the government equity is under 51%—this will not just give the PSUs autonomy, it will liberate them from the L-1-itis that currently hinders their growth and also ensure the CBI/CVC/CAG don't interfere with how they are run (see "India's own Temasek", http://goo.gl/lCe4Uk).
If Prime Minister Modi is to opt for a new paradigm, this must include a whole new way of dealing with state governments—the PM-CM partnership that Modi talked about during his election campaign. Given how so many BJP chief ministers, including Rajasthan chief minister Vasundhara Raje who is believed to be joining the Union Cabinet at some point, have campaigned against the Centre's tied-aid and step-motherly treatment, fixing this has to be a priority item on Modi's agenda. Indeed, Modi indicated as much when, during his campaign days, he said that if a state wanted to build irrigation canals but the central funds available were for roads, he would allow this diversion.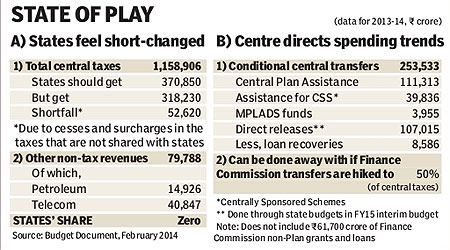 Former disinvestment minister Arun Shourie, for instance, was the first to point out, in an interview to this newspaper, that states could be allowed to come up with their own laws even if they were on the concurrent list—labour laws are on the concurrent list and so, convention is, they cannot be changed unless the central law is changed. As long as the central law says firms with more than 100 persons require government permission to shut down, no state can change its law to make this 300 persons or 1,000 persons. Not true, says Shourie. Article 254(2) allows the state to change its law, provided it gets the President's assent—and that essentially requires that the Centre asks the President to do so. Using Article 254(2) imaginatively could be the first step in the Modi PM-CM partnership.
A related issue, coming up with increasing frequency now as states line up for 'special category' status, is