There is some traction on investments via CCI and fiscal consolidation through cash transfers and tax reforms
In this article, we discuss the hopes and risks in the Indian macro landscape of 2013, spanning both economics and politics. Our base case is that the worst is over with expectation of some traction on both investments (via Cabinet Committee on Investment) and fiscal policy (cash transfers, tax reform).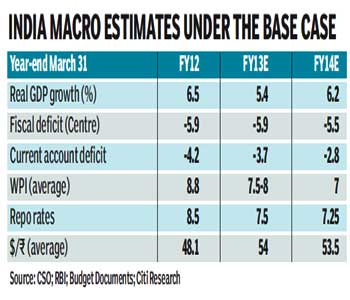 Our base case assumes (1) a relatively benign global environment growing at 2.6%; (2) steps towards reversing the decline in investments; (3) measures on the fiscal—particularly a move towards cash transfers and a gradual implementation of tax reforms; (4) stable/lower commodity prices; (5) continuation of measures to attract capital flows; and (6) no early elections.
However, there are risks as well as opportunities. The four key risks are global, political, housing and ratings, while the four key opportunities are growth, inflation, fiscal and savings & investments.
Four key risks:
Global dynamics: Following a 2.5% growth in 2012, Citi's base case is for global growth of 2.6% in 2013E and 3.1% in 2014E. Evolving dynamics in 2013 include the US fiscal cliff, euro area uncertainty, Middle East geopolitics, and also China issues—all of which will play their role as India's dependence on global capital and risk appetite remains high.
Politics: Reigniting interest with the first phase of reforms in September (fuel prices, FDI and divestments), the government has fuelled hopes that this is not a false dawn. Despite the political cost, the government has stepped up the momentum and announced several measures (FDI in insurance, pension, SEB restructuring, raising urea prices, and reducing withholding tax rates). Encouragingly, the government has also taken steps to address structural issues on the fisc and incentivising investments—both of which are key to avert a ratings downgrade and accelerate growth. However, while the measures have broken the two-year policy logjam, key to note is that many of them require parliamentary approval to be implemented. Moreover, given the upcoming state elections and the big one in 2014, the window is relatively small.
Interestingly, recent investor feedback on politics was that similar to the US, Europe and China; politics in India is now just 'another variable' in the investment landscape. But there are differing views on the impact, with one camp of the view that the market was currently pricing all to perfection, and the other that the rally could persist if the government