In just a couple of days from now the Budget 2013 will be presented. As critics would tend us to believe, this year's Budget is all about fiscal consolidation and spurring investment, specifically in infrastructure. I would tend to believe so, but with a caveat. Contrary to popular perception, I would take a contrarian position and emphasise that most of us miss out on some of the good points of fiscal consolidation during the last one-and-a-half decade. Our objective in this piece is to highlight some of these achievements and link it automatically to priorities in the forthcoming Budget.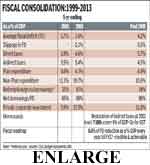 A glance at the accompanying table shows that, for the five-year period ended 2003, the average fiscal deficit was around 5.7%. This period also was prior to the implementation of the FRBM Act. Post-2003/post-FRBM, there are two distinct trends. First, if we identify the five-year period leading up to the 2008 crisis, the average fiscal deficit revealed a significant improvement to 3.6%. However, post 2008, the average deficit went up to 4.2%, a slippage of 0.6% from the earlier period. Remarkably, the fiscal consolidation plan envisages exactly a 0.6% reduction in deficit every year till 2017 (when the deficit touches 3%). Thus, based on data trends, the fiscal consolidation plan looks creditable and achievable!
Next, looking at the tax receipts over the comparable period shows the buoyancy in tax revenue was driven primarily by direct taxes doubling their share in GDP from an average of 2.8% to 5.7%. Clearly, plugging the loopholes, increase in effective tax rates for individuals and corporates, expanding the tax base and improving tax administration (tax refunds has increased by 30%) has yielded rich dividends. Alternatively, given the increase in direct taxes, it may not be prudent to think of imposing a new tax on super rich in the forthcoming Budget, as the incremental benefit of such may be limited.
Regarding indirect taxes, there has been a decline from 5.5% to 4.5% over the same period. Hence, the immediate priority is to increase this, and there could be no better way of passage of GST. Interestingly, even if we were to improve this ratio to pre-2003 level, it would add at least R1 lakh crore/1% of GDP.
A look at the expenditure trends reveal an improvement in quality of expenditure, with Plan expenditure cornering a larger pie as compared to non-Plan expenditure (Plan expenditure