The economists have a consensus—there will be no rate cut on August 5, 2014. The question remains—how much of this forecast is based on herd mentality, and how much is based on data that RBI must consider before making interest rate policy?
The most important variable determining the present RBI stance on interest rates is inflation as measured by the CPI. In the last policy statement (June 2014), RBI Governor Raghuram Rajan stated: " …if disinflation, adjusting for base effect, is faster than currently anticipated, it will provide headroom for an easing of the policy stance". Translated into English, what Rajan said was that if there is a decline in the rate of inflation, and this decline is not due to seasonal factors; and not due to abnormally low inflation in the comparison month last year (base effect), then RBI will have a valid basis (headroom) for an easing of monetary policy.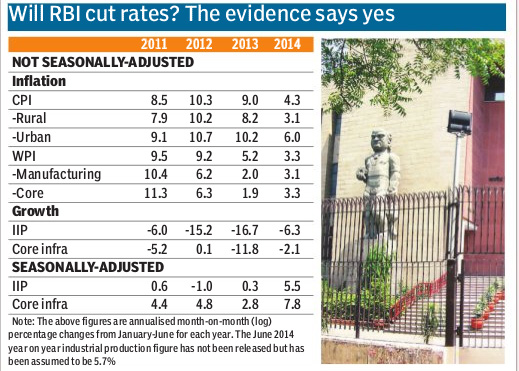 Regarding the base effect. Last year, the yoy CPI inflation March through June was 9.1%, a value lower than the first six months average of 9.6% (yoy figures not reported in the accompanying table). Thus, the base effect goes the other way, i.e. if inflation in 2014 is lower, it is because of structural factors, and not due to seasonal biases.
The seasonal effect of inflation is best examined by the use of seasonal factors, a science considerably well-developed in the West. Most policy-makers in the world use seasonal factors in order to determine the course of structural variables like output and prices. For some unknown reason, RBI has been allergic to the use of seasonal factors—though every sabziwallah, and therefore everybody, knows about the importance of seasonality in food prices. Indeed, that might be one important reason why monetary policy in India has not been exactly path-breaking. Given the new modern regime in Mumbai, it is hoped that, sooner rather than later, seasonally-adjusted data will be a standard feature of data dissemination and policy discussion in India.
The table reports month-on-month calculations on various inflation indices for the first six months of 2014 and the corresponding months in the preceding three years. For CPI and WPI, only the rates of growth for non-seasonally-adjusted data are reported; this is done to make the analysis transparent and without use of "strange" seasonal factors (use of seasonally-adjusted data yileds the same results). For the