A clutch of fixed-dose-combination (FDC) drugs, which the regulator thinks are irrational and of little use to patients, may be banned soon in what could hit a cross-section of the drug industry and dent the turnovers of leading firms like * Cipla, Sun Pharma, Cadila and Torrent, among others. These FDC drugs, which had found their way into the market without the approval from the drugs controller general of India (DCGI) and under licences issued by state drug regulators, include muscle relaxants, painkillers, anti-depressants and antispasmodics, according to official sources.
FDC formulations account for around 44% of the Rs 74,000-crore domestic pharmaceutical market and are frequently prescribed by doctors. A section of the FDC market is believed to be of drugs lacking any therapeutic efficacy (a recent study of a fairly representative size of this market said only 5% of the products are rational).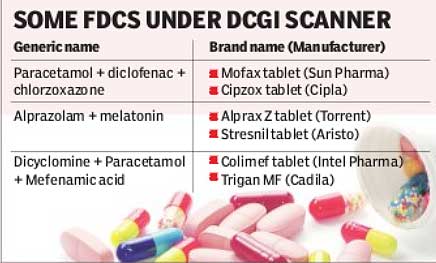 Concerned over the regulatory laxity at the state level which led to entry of these redundant medicines into the market, the drugs controller general has often used directions to the state authorities to refrain from giving approvals to these medicines, but compliance has been tardy in this front.
In regard to two dozen such drugs that are now facing a ban, the DCGI had set deadlines twice to all drug companies manufacturing/marketing these medicines to prove their safety and efficacy claims but hardly any company has complied with the directive. According to DCGI GN Singh, he has now asked these drug makers to submit the safety and efficacy documents regarding these combination medicines by September 30 or face an immediate suspension of the products.
"In case applications are not submitted by a manufacturer by September 30, 2013, it will be presumed that he is not willing to prove the safety and efficacy of such FDCs," Singh told FE.
Under the Drugs & Cosmetics Act, only the DCGI is entitled to give marketing approval for any "new drug", which include a first-time FDC of two or more drugs. Clinical trials are a must for these drugs for verifying their safety/efficacy profile, as also specified documentation. In practice, however, state licensing authorities routinely give approvals for new FDCs. A move is on to shift the licensing powers to the Centre under the Central Drug Authority Bill, which is