Japanese brokerage firm Nomura today said though the Congress' manifesto focuses on getting the economy back on track, entitlement-based promises like right to health and housing will enlarge fiscal gap.
"The Congress manifesto suggests the focus will be on getting the economy back on track. However, the entitlement- based policies will continue and expanded to cover housing and health, which will entail a higher fiscal cost," it said in a report here.
Congress manifesto unveiled, vows 8 pct economic growth rate in India, create quota for SC/ST in private sector
The Congress today released its manifesto in which it has promised to restore real GDP growth, that slumped below 5 per cent last fiscal, to above 8 per cent within the next three years.
The UPA lead party, which has legislated key right-based policies like right to information, food and education during its decade-long rule, has said it would expand such programmes to offer the right to housing and healthcare if it retains power at the Centre after the polls.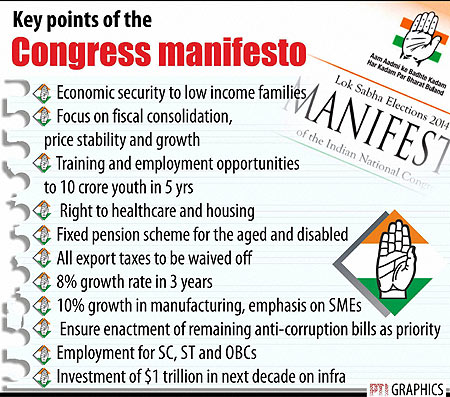 The document also promises to reduce the fiscal deficit to 3 per cent of GDP by FY17 with implementation of goods and service tax and direct tax code within a year.
Nomura flagged concerns regarding the promise to raise minimum support price for farmers.
"Policies such as raising the minimum support price for farmers will also be inflationary," it said, adding, all other suggestions regarding economic reforms have been on the table for a long time now.
"In our view, the differentiating factor in the next elections will be the ability and the willingness of the new Government to take up these reforms," the report said.
The main Opposition BJP, widely expected to do better than Congress in the April-May elections, is likely to release its manifesto soon.