With rising rural income, changing consumption patterns and higher government spend on rural employment, Indian corporates are opening up new channels to tap emerging demand in the country's villages. While consumer goods firms and retailers have already made well-chronicled inroads to tap rural demand, truck makers, telecom companies and fuel marketers are also finding rural engagement more and more rewarding.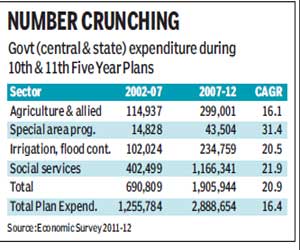 "Rural income is expected to more than triple from $572 billion in 2009-10 to $1.8 trillion by 2020-21," says Siddhartha Roy, economic advisor at the $100-billion Tata Group. He points out that non-agricultural income is a driver of this growth. "The share of non-farm income has seen a reversal over the last four decades, rising from 26% in the 1970s to as high as 60% in 2007-08." Non-farm income, he says, will further rise to 68% of total rural income by 2015-16.
The salt-to-software Tata Group is wasting no time in tapping the new opportunities. For instance, Tata Motors, India's largest maker of trucks and buses, launched its rural initiative Project NEEV in 2010, focusing on rural areas with a population of less than 50,000. NEEV's network expansion approach comprised increasing the "feet on the street" through Tata Gramin Mitras, third-party outlets called Tata Kisan Mitra and an informal network of key local influencers.
"The advantages of this method was that it required lower investment and less lead time to activate the network, and the outlets had a much deeper reach than the traditional outlets," says Sandeep Kumar, head, sales and marketing, light and small commercial vehicles, at Tata Motors.
Driving rural consumption are some government job guarantee schemes, where more money is being progressively allocated.
Government expenditure on rural development, including schemes like the Mahatma Gandhi National Rural Employment Guarantee Scheme and the National Rural Livelihood Mission grew at a compound annual growth rate of 16%, from R1.15 lakh crore in 2002-07 to R2.99 lakh crore in 2007-12.
Meanwhile, Mahindra Navistar Automotives, a 51:49 JV between Mahindra & Mahindra and Navistar of the US, is engaging with rural markets to build its brand.
One such programme is listening to drivers and also training them to extend their working life. "Truck drivers haven't had their problems heard for a long time," says Nalin Mehta, MD, Mahindra Navistar, which aims to sell 13,000 trucks this financial year. "By listening to them we have fine-tuned our products to suit their needs and they are