The RBI is ready to launch Inflation Indexed National Savings Securities-Cumulative, benchmarked against CPI, to take on the stubborn inflation that has been gnawing at your precious investments. How effective will IINSS-C be? Here's a lowdown
The RBI Governor Raghuram Rajan has said that the central bank will launch Inflation Indexed National Savings Securities-Cumulative (IINSS-C) — benchmarked against the Consumer Price Index (CPI) — today and the subscription can be closed before December 31, 2013 with prior notice. At a time when investors are helpless witness to high retail inflation of over 11 per cent (registered in the month of November) eating into their return on investments in various asset classes, the announcement comes as a saving grace.
Investors are carefully evaluating options that can generate a positive real rate of interest and, while over the last couple of weeks, they have been quick to latch on to the tax-free bonds offering interest rates of up to 9.01 per cent, they may now look up to the launch of the Reserve Bank of India's IINSS as has been announced by the Raghuram Rajan.
With CPI inflation hovering at over 11 per cent, this comes as a huge relief to retail investors who will earn 1.5 per cent over and above the inflation for the year through this product and thereby get a true protection from inflation.
The opportunity
While the Reserve Bank of India launched inflation-indexed bonds (IIB) linked to the wholesale price index (WPI) earlier this year, the upcoming IINSS-C to be launched later this month will be benchmarked against the CPI which is a better indication of the retail inflation and therefore will more realistically provide protection against inflation.
As of now, fixed deposit instruments by banks and post offices are offering around 8.5-9 per cent, the BSE benchmark Sensex has risen by around 7.7 per cent in the last one year while gold has generated a negative return of 10.7 per cent in the same period. This product comes as a big attraction for investors offering returns that are far superior to them.
Experts feel that our country has been under a high inflationary environment for over few years now and as they are expected to remain in similar zone in the near future, it gives investors a good option where they can earn high pre-tax return on their investment.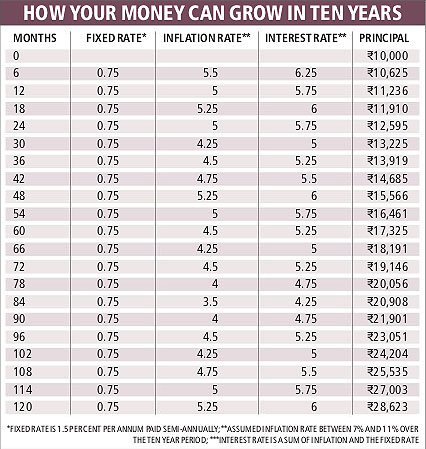 While CPI inflation is currently