reward points per Rs 100 spent on dining, fuel and hotels and 2 points on all other categories of spend.
A comparison of credit card benefits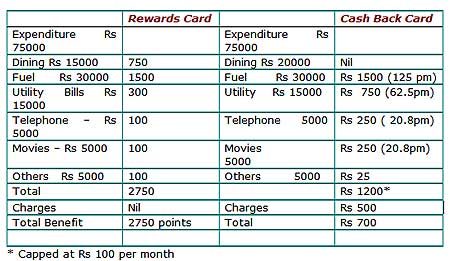 As we see rewards points card gives you 2750 points and a cash back card Rs 700(after accounting for annual charges). Reward points of 2750 can give you lifestyle benefits like gift vouchers, dining coupons, apparel vouchers etc. Some reward points can also be redeemed at specified outlets/ e-commerce sites to make some purchases. However, the value of points differs. Ex : 1300 pts of rewards card can get you an Arrow Gift Voucher of Rs 500 at the same time a Rs500 GV of Lifestyle would cost you 1500 points. In our case; with point's value of 2750, one can around Rs 1000 worth of gift vouchers. Hence the rewards cards prove beneficial in this case.
A Cash Back card on the other hand may prove beneficial. You get direct benefits and frees up cash, unlike a rewards card on which you gain rewards much later. Also it may be difficult to choose something from the limited list of rewards catalogue. Annual and joining fees for a cash back card will also have to be taken into account. Often cash back card may establish to be better for big spenders, when the maximum cap of monthly cash back does not exist.
Choosing a card depends also on the kind of expenditure you incur. If you are a frequent flyer or fill fuel at a particular outlet all the time, co-branded cards prove beneficial. In any case, a credit card should be used with caution and your expenses should remain within your budget, irrespective of nature of the card. Before going in for any card, carry out a cost-benefit analysis basing it on your current expenditure and sign on the form only after you are sure.