Credit rating agency Crisil has warned that though credit quality pressure on corporates has bottomed out, improvement will be gradual due to fragile economic recovery, even as it said profitability will be a tad better this fiscal.
The largest domestic rating agency also said that it expected GDP growth of 6 per cent this fiscal, which is 50 basis points above consensus estimate and also that of the RBI and Asian Development Bank (ADB) but warned that if monsoons fail due to an El Nino impact on rainfalls, economic expansion could slip to 5.2 per cent.
"While we see GDP clipping at 6 per cent, given our expectation of a stable government after polls and a normal monsoon, it could reverse if these do not materialise and GDP may grow at 5.2 per cent," Crisil told reporters on a conference call, addressed by senior ratings directors Pawan Agrawal and Somasekhar Vemuri, today.
During the just concluded fiscal, Crisil, which rates as many as 13,000 companies, has downgraded 1,165 firms and upgraded just 921.
"Companies credit quality is on course to a gradual recovery in FY15, as we believe the credit ratio (ratio of rating upgrades to downgrades) may recover from the low levels seen during the last fiscal as pressure on profitability and demand eases," Crisil said.
Also read: Mystery of Malaysia Airline Flight MH370 may never be solved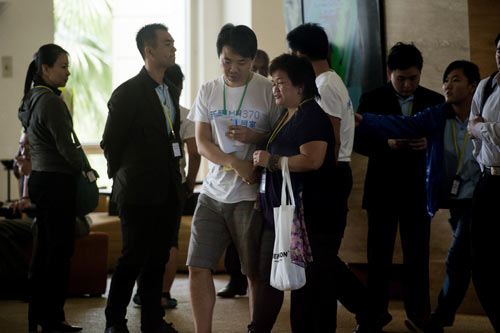 Relatives of the Chinese passengers onboard the missing Malaysia Airlines, MH370 embraces each other as they walk out after a close door meeting with the Malaysian officials at a hotel in Bangi, outskirts of Kuala Lumpur, Malaysia. Investigators are conducting a forensic examination of the final recorded conversation between ground control and the cockpit of Malaysia Airlines Flight 370 before it went missing three weeks ago, the Malaysian government said. (AP)
"But the overall credit quality will be far from buoyant near-term, given the fragile economic growth and limited scope for cut in interest rates," they said about the ratings.
Around 90 per cent of downgrades were due to slowing demand, tight liquidity and stretched working capital cycles. Companies in capital intensive sectors like power, construction, engineering and capital goods, as well as transport, had more downgrades than firms in other sectors, it added.
Crisil said credit ratio, at 0.79 times in FY14, has remained weak for two years in a row, as downgrades outnumbered upgrades on slowing