Cash-starved sugar mills in Uttar Pradesh have threatened to suspend operations in the next marketing year starting October. The development has aggravated a crisis in the industry, which the Centre had tried to resolve earlier this year by facilitating cheaper loans of R6,600 crore to mills across the country to clear cane dues.
Uncertainty also looms over the Rs 4,400-crore additional subsidised loans promised by the Centre in June.
Mills in UP already incurred Rs 4,000 crore in losses for the two years through 2012-13 and are staring at further losses of roughly R3,250 crore in the current marketing year. This is because returns from sugar sales failed to keep pace with the state-advised price (SAP) for cane fixed by the UP government, far exceeding the price set by the Centre.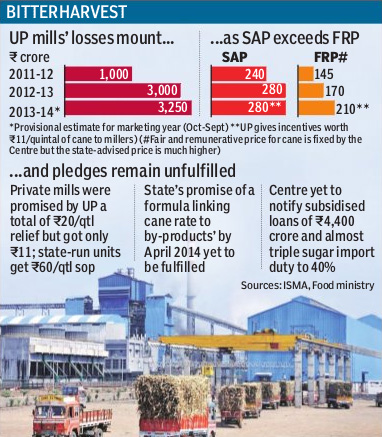 Having incurred a loss of R5.50 on the sale of each kilogram of sugar at the current price of R31.50, the UP Sugar Mills Association on Monday served a notice to the state conveying mills' inability to crush cane next season, said Abinash Verma, director general of the Indian Sugar Mills Association (ISMA).
He said unless the state keeps its promise of firming up a formula linking the price of cane to its by-products and offering a financial assistance of R9 per quintal of cane, even clearing cane arrears of around R5,000 crore this season would be a herculean task.
Banks, after reluctantly agreeing to offer mills working capital loans in 2013-14 following assurances of relief by the state government, have again started refusing to provide loans, further complicating the situation for the industry, millers said on Tuesday.
Kushagra Bajaj, vice-chairman and joint MD of Bajaj Hindusthan, said: "We have been in this business for 90 years and we have never seen such a situation. Around 75% of the mills in the state have gone to either the BIFR or the CDR cell due to the crisis. We want a level playing field with the mills in Maharashtra or Karnataka (where the recovery rate is much higher and prices reasonable)."
Asked what could be a fair price of cane, Verma said according to the current ex-factory price of sugar, mills won't be able to pay more than R235 per quintal for cane, factoring in the Rangarajan formula. Rangarajan had suggested offering 70% of realisation from sale of cane by-products or 75% of returns from sugar sales