Current account deficit (CAD) in India is likely to be $35 billion in the current fiscal year, Finance Minister P. Chidambaram said on Monday, much lower than about $88 billion recorded in the previous fiscal year.
India's FM P. Chidambaram, desperate to trim a gaping current account deficit, took a slew of measures last fiscal year to curb demand for bullion, its second-biggest import after oil.
Also Read: P. Chidambaram: PetrolMin, RBI 'too cautious' over gas price hike, new bank permits
HIGHLIGHTS
* Process of granting new bank licences should continue uninterrupted: P. Chidambaram.
* Business is comfortable with UPA; BJP's brand of capitalism is crony capitalism: P. Chidambaram
* Petroleum Ministry should not have referred the RIL gas price hike issue to Election Commission: P. Chidambaram.
* CAD likely to be USD 35 billion in 2013-14: Finance Minister P. Chidambaram
* Economy more or less stable. No one talks of downgrade as fundamentals are strong: P. Chidambaram
* India's forex reserves have crossed USD 300 billion: P. Chidambaram
* We have successfully contained fiscal deficit and current account deficit: P. Chidambaram
* We will consider some relaxation on gold import in consultation with RBI after monetary policy: P. Chidambaram
Also read: Malaysia Airlines Flight MH370: 20 planes, ships resume hunt west of Perth after more debris spotted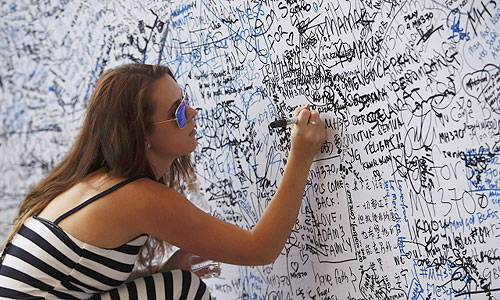 A woman writes on a wall dedicated to the passengers of the missing Malaysia Airlines flight MH370 during the the Malaysian F1 Grand Prix at Sepang outside Kuala Lumpur. (Reuters)