Despite an economic slowdown, India's crude oil import bill grew 11% during April-October, thanks to a somewhat steady rise in domestic consumption amid falling local production. Although import growth was much slower than the previous year's 46%, it exerted a more negative impact on the current account as export of petroleum products fell by over 9% in the current fiscal.
Exports are roughly a third of imports at present.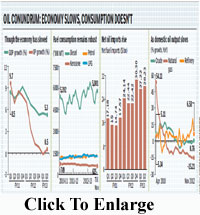 It is not that the slowdown hasn't impacted oil imports. Oil imports growth, in quantity terms — the closer proxy of demand — has declined since 2009-10. What kept the import bill relatively high is also a decline in domestic output, where growth has turned negative since October 2011, increasing reliance on imports.
A weak rupee has bloated the import bill too as the quantity has remained 15.5-16.5 million tonnes a month till November this fiscal. According to petroleum ministry data, during 2011-12, oil imports have risen just 3.5% on-year to 186.73 million tonnes, almost the same as 3.7% rise in 2010-11 but lower than 14.9% in 2009-10. The economic growth had started sliding from 8.4% in 2010-11 to 6.5% in 2011-12 and 5.4% in first half of this fiscal year.
Commerce ministry data giving value show oil imports stood at $96.4 billion during April-October this year while petroleum products exports were $30.26 billion. During 2011-12, oil imports rose 46.2% to $155 billion while fuel product exports too grew at a scorching pace of 34% to around $56 billion.
The new trend in fuel export and import is worrisome as it would keep the current account deficit high and strain government finances in the coming months, analysts said.
"Global oil prices is still a risk. In the short run, the CAD will remain high. We expect CAD to remain near 4% in FY13. If the government implements the R1 a month hike in diesel prices, the oil import bill may be limited," said DK Joshi, chief economist of Crisil.
Until 2011-12, a spurt in global oil prices had bloated the import bill and at the same time, helped in boosting exports as private companies like Reliance Industries realised higher value for the refined petroleum product exports. This trend has reversed in 2012-13.
"Consumption of oil is directly proportional to economic growth without exception. If crude oil imports are growing, it may have got something to do