A month after the central government brought onions and potatoes under the Essential Commodities Act, 1955, and empowered states to put stockholding limits on these vegetables to rein in hoarders, the difference between their wholesale and retail prices has not reduced.
And in the case of other kitchen staples such as tomato and rice, the gap between wholesale and retail prices has actually widened over this period.
Data from the Prime Monitoring Cell of the Department of Consumer Affairs show that as of Friday (August 8), the difference between the wholesale and retail prices of potato was 40 per cent, marginally higher than the 39 per cent differential that was recorded exactly a month ago on July 8.
Four days earlier, on July 4, the Cabinet Committee on Economic Affairs had approved imposition of stockholding limits on onion and potato under the Essentials Act. The decision allowed states to carry out de-hoarding operations to control the prices of these vegetables. Theoretically, if this action had worked, the difference in the wholesale and retail prices should have come down subsequently.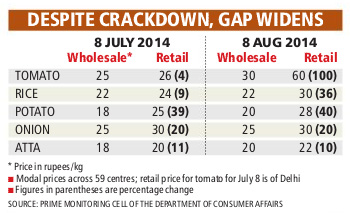 While the wholesale-retail gap in the price of potato rose marginally, that of onion remained unchanged at 20 per cent. Modal wholesale and retail prices per kg taken across 59 centres show them to have remained constant at Rs 25 and Rs 30 respectively on both July 8 and August 8.
For tomato, however, the difference jumped from 4 per cent on July 8 to 100 per cent on August 8. The difference in wholesale and retail prices of rice on the same two dates increased from 9 per cent to 36 per cent.
This data gives credence to the overwhelming view among experts that the spurt in retail prices of vegetables and other products has more to do with the seasonal mismatch in demand and supply. The fact that the wholesale-retail gap has not narrowed more than a month after the government announced these steps, to some extent highlights the futility of coercive measures against middlemen and hoarders, who have been blamed almost squarely by the NDA government.
The CCEA approval for steps to target hoarders came after the Commerce Ministry announced early last month a hike in the minimum export price (MEP) of onion to $ 500 per tonne. Before this hike, in June, the MEP — or the rate below which no exports are allowed — on