If the wreckage of a missing Malaysia Airlines Flight MH 370 rests somewhere in the Indian Ocean's depths, investigators will likely need to entrust the hunt at least partly to robot submarines and the scientists who deploy them to scan remote swaths of the seafloor as two miles down or more and darker than night, the ocean becomes a particularly challenging place for human searchers.
Mystery of Malaysia Airline Flight MH370 may never be solved
The unmanned subs, called autonomous underwater vehicles or AUVs, played a critical role in locating the carcass of a lost Air France jet in 2011, two years after it crashed in the middle of the south Atlantic. The find allowed searchers to recover the black boxes of Malaysia Airlines Flight MH 370 that revealed the malfunctions behind the tragedy.
Malaysia Airlines Flight MH370: Nuclear submarine, Oscar-winning director Peter Jackson join hunt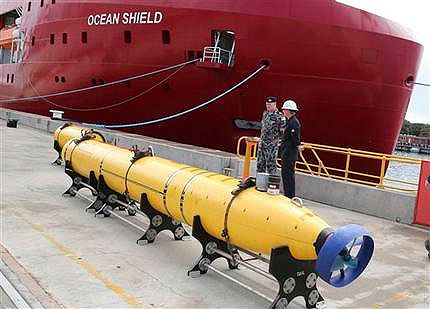 An autonomous underwater vehicle sits on the wharf at naval base HMAS Stirling in Perth, ready to be fitted to the Australian warship Ocean Shield to aid in the search for missing Malaysia Airlines Flight MH370. (AP)
That search keyed off critical information: The search area for the Air France jet was much smaller than that for Malaysia Airlines Flight 370, and the first pieces of wreckage were recovered within days of the crash. Even then, it required two years and four deep water search missions before a team from the Woods Hole Oceanographic Institution, using an AUV equipped with side-scan sonar, located the jet about 12,800 feet (3,900 meters) underwater.
"Air France 447 is a bit different from Malaysian Air 370 in that we had a few more clues to work with," said Dave Gallo, who led the search team from Woods Hole, located on Massachusetts' Cape Cod. The independent research institution has offered its services to investigators but has not been asked to join the current search effort.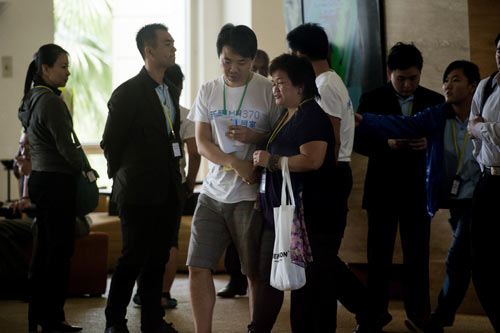 Relatives of the Chinese passengers onboard the missing Malaysia Airlines, MH370 embraces each other as they walk out after a close door meeting with the Malaysian officials at a hotel in Bangi, outskirts of Kuala Lumpur, Malaysia. Investigators are conducting a forensic examination of the final recorded conversation between ground control and the cockpit of Malaysia Airlines Flight 370 before it went missing three weeks ago, the Malaysian