Barring a last minute order by the central government to NTPC, or a temporary cash support by the Delhi government, large areas in eastern and central parts of the capital can expect 10-12 hours of daily power cuts within a week.
This is despite the 7-8% fuel surcharge adjustment allowed by the Delhi regulator on Friday that, from March 15, will add R20-30 crore per month to the revenues of each of Delhi's electricity distribution companies (discoms).
While BSES Yamuna Power (BYPL), which supplies power to 13 lakh customers, has written to the Delhi power secretary saying it has no money to pay NTPC/NHPC their dues — Rs 204 crore is due by the end of the month — chief minister Arvind Kejriwal said the companies' licences will be cancelled if they behave this way. "There are lots of power companies in the country," he said, "not just those belonging to Tata and Ambani." For now, it is only the Reliance Infrastructure-promoted BYPL, and not Tata Power Delhi Distribution (TPDDL), that has talked of impending power cuts.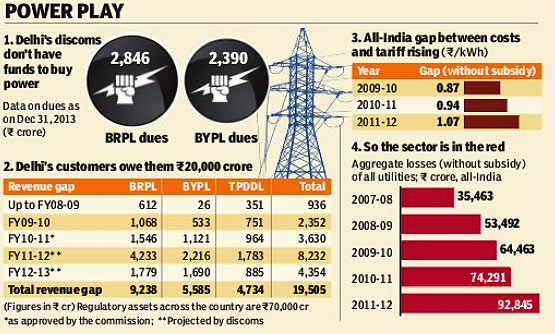 NTPC sources said if the dues were not paid within a few days, a disconnection notice would be served on BYPL.
Under the law, a three-day notice is given before power supplies are cut off. NTPC officials said this problem of dues takes place each year but, in the past, the Delhi government has released some subsidy payments to alleviate the immediate crisis. This time around, however, the chief minister is adamant that no help will be extended.
An immediate loan will help tide matters over, but only for a bit since the dues of the two BSES companies to various suppliers add up to Rs 5,236 crore. Of this, BSES Rajdhani Power's (BRPL) dues are Rs 2,846 crore, while BYPL's are Rs 2,390 crore.
Two suppliers, DVC and SJVN, have already stopped supplies adding up to 259 MW. BYPL's total needs are 1,500MW and a third of this is supplied by NTPC. The two BSES firms owe Indraprastha Power Rs 1,226 crore, Delhi Transco Rs 913 crore and Pragati Power Rs 1,304 crore. DVC is owed Rs 645 crore and SJVN, formerly Satluj Jal Vidyut Nigam, Rs 115 crore.
Ironically, while the two BSES companies owe suppliers Rs 5,236 crore, Delhi's customers owe them Rs 14,770 crore, according to the statutory advice given to the Delhi government by