Although Appleís iPad lineup is yet to be bested by the slew of tablets in the market, Dellís Windows-powered Venue 8 Pro tries to appeal to those who need Microsoft software in a portable form factor. Windows 8 comes pre-installed in most new laptops, but the OS is still uncommon among tablets. Letís find out if it can compete with the iPad Mini and cheaper Android tablets.
Build & design
Dellís tablet measures 8 inches diagonally and is easy to carry around. This tablet weighs 395 grams, which is heavier than the iPad Mini with Retina Display (331 g). The weight difference isnít much, and the Venue 8 Pro feels good to hold when you use it with both hands. Although you can hold it with one hand without straining your arm, you will not be able to use it with the same hand.
The tablet has a pattern at the back, which provides good grip. It has volume and lock buttons on one side and a Windows button at the top. The Windows button takes you back to the home screen if you have any app open. Its placement is extremely awkward. Android and iOS devices have a home button just below the screen, where it is easily accessible.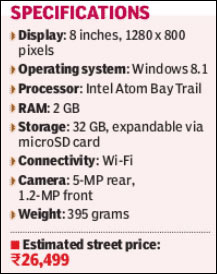 Most Windows tablets and Windows Phone devices have a similarly placed home button. Thatís why Dellís decision to put it on one of the edges is baffling. I found myself swiping from the right edge of the screen to access the virtual home button and I rarely used the physical home key. Barring that, Dell has done a good job with the tabletís design. Itís light, feels premium and well-built.

Display

The most-used component of all touchscreen devices is the display. When using a tablet, a high-resolution display is a must. Dell Venue 8 Proís 1280x800 pixel display may not be as good as the iPad Miniís Retina Display, but thatís not something you will notice unless you are switching from the Apple tablet. I found that the Venue 8 Proís screen is good for watching films because the viewing angles are great. You can watch from nearly 180 degrees on either side and still the video will not lose clarity. This is also very useful while gaming, especially because you might have to tilt the tablet when you are playing.

However, the downside is that