Onion
Onion prices have dipped in all the five major cities of India in May this year. But in almost all of them the retail price of the crop has flared.
This peculiar difference has arisen because of storage asymmetries for onions, the second largest among India's four major horticultural crops, the others being potato, tomato and brinjal.
Out of 55 cities, data from government and those from reporters of The Indian Express show retail prices of onion have risen in almost each of them. In Ahmedabad, prices have risen by Rs 10 to Rs 27 in the two-month period. In Bhubaneswar it has risen even more at Rs 12 a kg to Rs 28 and by Rs 18 to Rs 34 in Kolkata.
This is the reason why despite a record production in FY14, on Wednesday the government raised the minimum export price of onions to $500 per tonne. A week earlier it had raised it to $300 per tonne. As per Agricultural and Processed Food Products Export Development Authority (APEDA) data, India has exported
Rs 3,169.63 crore of the crop during the FY 14. "There is a lot of demand of Indian onion in the world. It is the second largest (producing) country. Indian onions are famous for their pungency and are available around the year," its website reads.
Onion has essentially two production cycles, every year. While all states in western India produce the crop, ranging from Haryana to Tamil Nadu, it is Maharashtra that accounts for almost 28 per cent of India's production.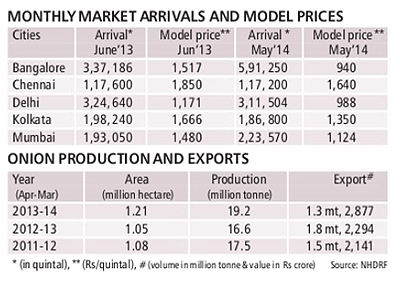 But the shortage of onion in the major cities has just no relation with the monsoons or with exports. "It is instead the signalling effect of the rains that has created the spike," says Sunil Sinha, economist with Fitch Ratings.
He is spot on. In FY14, India is on course to record its highest production of the horticultural crop at 19.2 million tonne (MT). Year-on-year this is about a 16 per cent jump and in any case far higher than the annual rise in consumption. Exports too, as the table shows, is soft. It has been less at 1.3 MT against 1.8 MT in FY13.
The shortages are because of two factors. There is little facility for warehousing onion crop unlike potato. The truckloads that travel out wards from Nashik and other places have to find a buyer