Even as job losses start to add up and wage hikes become tougher to come by, banks continue to push unsecured personal loan products — considered more susceptible to defaults — on their customers.
Bankers say the slowdown and stress in the economy has not resulted in any significant lull in personal loans as banks are now largely offering unsecured personal loans to existing customers which limits the risk of defaults.
"Right now we have not seen any signs that the macro-economic environment will affect personal loans. We have not seen any trend of payment defaults," said KVS Manian, the consumer banking head for Kotak Mahindra Bank.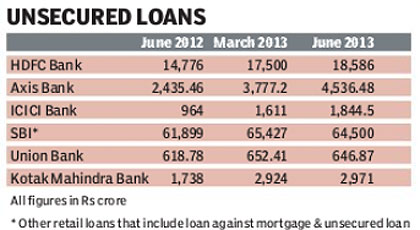 During the 2008-09 crisis, banks had seen a large quantum of defaults in the unsecured personal loans category as banks had lent aggresively even to customers who had no other banking relationship with them. Unsecured loans are loans not backed by any form of collateral.
Manian expects the bank's personal loan portfolio to grow anywhere between 20-50% in the second half of the financial year. Kotak Mahindra Bank's personal loan portfolio stood at R2,971 crore in the quarter ended June and grew 41% year-on-year.
ICICI Bank's personal loan portfolio grew 91% from a year ago to R1,844 crore as on June 30. While its credit card portfolio stood at R3,038 crore, up 21% year-on-year. HDFC Bank's personal loan portfolio in June was R18,586 crore and increased 25% from a year ago.
In case of Axis Bank, some caution crept into the personal loan business which in turn has slowed growth in that segment, says Jairam Sridharan, the consumer banking head at Axis Bank.
"Our risk management has got more cautious and we ask for more documentation and follow-ups for each case of a personal loan," he said.
Axis Bank's personal loan portfolio stood at R4,536 crore in the quarter ended June 30 and grew at 47% over the same period in 2012.
Meanwhile, public sector banks which have a relatively smaller unsecured portfolio, are actually aiming to grow that portfolio despite asset quality concerns.
Central Bank of India expects to see a 20-25% growth in personal loan portfolio this year, but adds it will grow with caution.
"Even though our loan size is very small for this segment — about 4% of our retail portfolio of R24,000 crore — we are closely monitoring this segment and following up with our customers