Bucking the financial downturn, 889 students got job offers from 260 companies at the end of the first phase of campus placements at IIT Bombay, up from last year. What is further significant is that over 100 students have been recruited by multinational companies for their global requirement, up from 84 last year.
Some of the major companies that came during the first phase are Google, Microsoft, Goldman Sachs, Boston Consulting Group, Shell, Morgan Stanley, IBM, Schlumberger, Sony (Japan), Samsung (Korea), and Deutsche Bank.
Around 1,600 students are part of campus placements this year. Last year, of 1,500 students, 828 had got job offers from 240 firms after the first phase.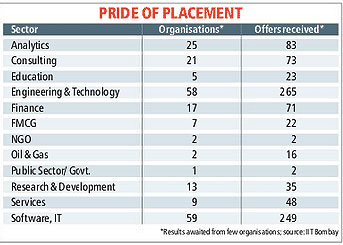 "Reputed organisations from Europe, Japan, Korea, Middle East, Singapore, Taiwan and USA among others, have visited the campus this year. Last year, after the first phase, over 84 students were recruited by multinational companies for their global requirement," said an IIT Bombay official.
The first phase started on December 1 and ended on December 19. The first day of campus placements this year saw 37 firms participating in the process and making job offers to 182 students. Last year, 35 companies had recruited 173 students on the first day.
"Initially we were apprehensive, but the first phase went off well. The number of offers and the number of companies exceeded expectations," said Avijit Chatterjee, professor in charge of placements at IIT Bombay. The second phase of campus placements will take place from January-June 2014.
Students this year continued to show inclination towards technical and software sectors, with 265 wanting to opt for engineering and technology firms, followed by 249 for software and information technology companies. In analytics, over 83 offers were extended by 25 firms, 73 offers were made by 21 companies in the consulting sector and 71 offers were made by 17 financial services firms.
"Opportunities in research and development (R&D) have been steadily growing for the past few years and this year too, IIT Bombay saw some premier job offers in this sector. A total of 13 R&D organisations offered 35 positions in the first phase. A few more are expected to recruit during the second phase," said the official release.
mumbai.newsline@expressindia.com