The divergent set of reporting numbers and varied commentary by industry players has only puzzled many on the current status of the Indian IT sector, with some outperforming the market, while others not meeting the expectations. At the end of the July-September quarter results for FY13, TCS and HCL Technologies continued with their strong performance registered during the first quarter, while Infosys remained cautious as before, dampening the sentiment of the market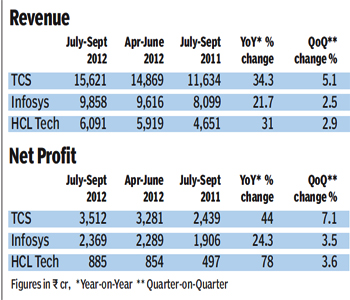 Though it is still early to say whether the second quarter numbers offer a glimpse into things to come in terms of separation among the top four Indian companies but some signs are very visible. TCS, India's largest IT service exporter is certainly racing away from the pack with its revenues more than $3 billion from its nearest competitor Infosys.
After the quarterly results of Infosys, Partha Iyengar, head of research—Gartner, India said, "Infosys continues its relatively weak and underperforming trend and year-end outlook, with the view that the market continues to be weak. It will be interesting to see what the other providers results are in the coming few days, but it is likely that the trend of performance gaps widening between various Indian service providers will continue this quarter as well and could be a trend for quite a few quarters to come."
In an economic environment, which is not upbeat and signs of recovery still being very weak, the response of the large Indian IT companies has been very divergent. Added to this the three-month period from June to September is traditionally understood as a strong quarter and hopes were raised of a better performance from the top tier Indian companies.
TCS has always maintained the stance that the overall outsourcing and offshoring environment has remained stable with no cause to panic. But on the other end, Infosys has consistently maintained the stand that the global economic environment still remains volatile with full recovery nowhere in sight. HCL Technologies in its commentary is finding opportunities in the unstable economic environment with the ability to poach on the many IT deals which are coming up for renewal.
The performance and responses of these Indian IT companies has partly to do with the internal structure of these organisations. TCS has represented a very stable management with the ability to proactively respond to the current economic situation and the confidence level has kept growing.
Infosys still seems to be grappling