The negative returns given by the benchmark indices over the last five years has weakened the case for long-term investing in equities. The benchmark BSE Sensex has shed more than 11% since January 2008, the month it touched its all-time intra-day high - NSE Nifty has followed.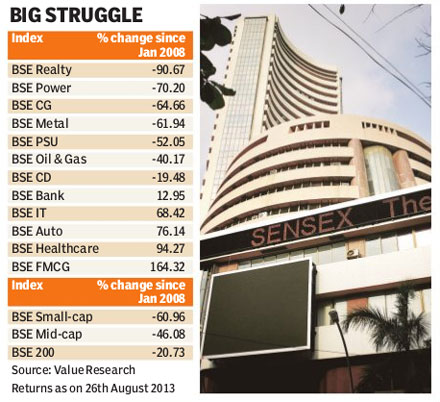 Nearly half of the blue chips listed on the 30-share index are currently trading even below its early 2008 levels. These include BHEL (-78.32%), Tata Steel (-70.83%), Jindal Steel (-54.78%), Tata Power Company/b> (-51.88%), NTPC (-51.52%), Hindalco Industries (-49.19%), Larsen & Toubro (-48.97%), Reliance Industries (-43.54%), Bharti Airtel (-39.18%), ICICI Bank (-34.74%), * State Bank of India (-32.46%), GAIL (-18.99%), Oil & Natural Gas Corpn (-17.01%) and Sesa Goa (-13.46%).
Except for FMCG, auto, IT and pharma, all sectoral indices have declined in the last five years. The realty index (-90%), power (-70.20%), capital goods (-64.66%), metal index (-61.94%), PSU (-52.05%), Oil & Gas (-40.17%) and consumer durables (-19.48%) have taken a beating.
During this period, the total market value of all the actively traded stocks put together has declined by 23%. "Long-term investing has become challenging as the last five-year period, perhaps for the first time in history, has seen two global meltdowns. The period has also seen close to a 50% crash in the rupee exchange rate and global crude oil prices holding up despite the global slowdown," said G Chokkalingam, managing director and chief investment officer, Centrum Wealth Management. "The country also made a few major errors like losing over $110 billion in gold imports over the last 30-months and not reversing the interest rate cycle substantially on time."
Experts said that while most broad-based indices have seen a downward trend, individual stocks have seen an even a bigger fall. They reckon India's growth story has failed to meet the expectations of the investor community after delivering a high rate of GDP growth in some quarters. "India's GDP growth rate has seen a significant slowdown. Investment has been challenging as equity markets net-net have not given any returns. At the same time, this difficult period has