Malaysia said Tuesday that it has narrowed the search for downed Malaysia Airlines Flight MH 370 plane to an area the size of Alaska in the southern Indian Ocean, while Australia said improved weather would allow the hunt for possible debris from the plane to resume.
The comments from Defense Minister Hishammuddin Hussein came a day after the country's prime minister announced that a new analysis of satellite data confirmed the Malaysia Airlines plane had crashed in a remote part of the southern Indian Ocean, killing all 239 aboard.
But the searchers will face a daunting task of combing a vast expanse of choppy seas for suspected remnants of the Malaysia Airlines MH370 aircraft sighted earlier.
"We're not searching for a needle in a haystack - we're still trying to define where the haystack is,'' Australia's deputy defense chief, Air Marshal Mark Binskin, told reporters at a military base in Perth, Australia, as idled planes stood behind him.
There had been two corridors to search for the Malaysia Airlines plane - based on rough satellite data - for the search. Hishammuddin said operations had been halted in the northern corridor that swept up from Malaysia toward Central Asia, as well as in the northern section of the southern corridor that arches down from Malaysia toward Antarctica.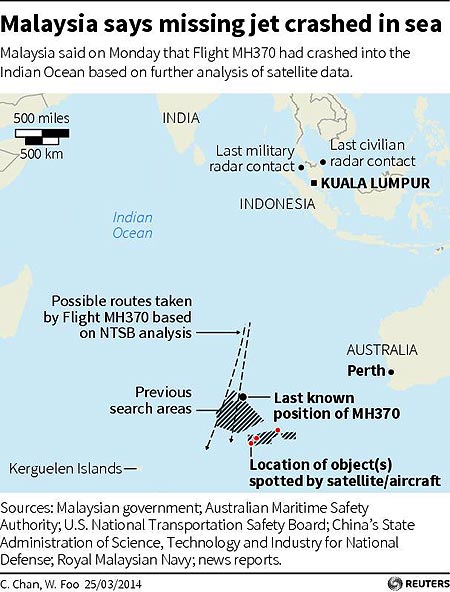 Doomed Malaysia Airlines Flight MH 370 final 'ping' at 0019 GMT
Satellite data that confirmed Malaysia Airlines Flight MH370 plane missing for more than two weeks crashed in the Indian Ocean included a final electronic signal that is still being investigated, Malaysian acting Transport Minister Hishammuddin Hussein said on Tuesday.
"There is evidence of a partial handshake between the aircraft and ground station at 0019 UTC (GMT)," Hishammuddin told a news conference. "At this time, this transmission is not understood and is subject to further ongoing work."
Prime Minister Najib Razak said on Sunday that groundbreaking satellite-data analysis by the British company Inmarsat had revealed that Malaysia Airlines Flight MH370, which vanished while flying to Beijing from Kuala Lumpur on March 8, had crashed thousands of miles away in the southern Indian Ocean.
Preliminary analysis of the satellite "pings" had only been able to place the plane's final position in one of two vast arcs stretching from the Caspian Sea to the southern Indian Ocean.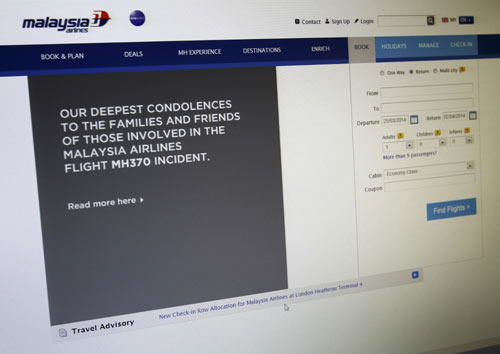 A sympathy message is displayed at the webpage of the Malaysia Airlines