Election officials should stop harassing jewellers and confiscating their consignments unless there is a violation of the model code of conduct, jewellers body GJF said today.
"Not just jewellers but also small businessmen, who have to carry cash for day-to-day business transactions are being harassed and humiliated by surveillance teams constituted by the Election Commission," All India Gems and Jewellery Trade Federation (GJF) Chairman Haresh Soni said.
He said election officials shouldn't harass people if no criminality is suspected -- that is, if there is no election campaign material and no party functionary or worker of the contesting candidates/parties present along with the individual carrying or transporting jewellery.
Also read: Malaysia Airlines Flight MH370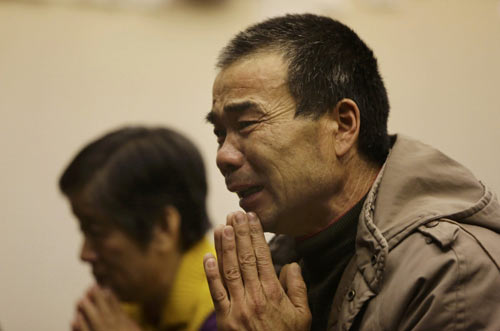 A relative of a passenger onboard Malaysia Airlines Flight MH370 cries as he prays at a praying room at Lido Hotel, in Beijing March 31, 2014. Australian Prime Minister Tony Abbott said there was no time limit on the hunt for Malaysia Airlines Flight MH370, missing for more than three weeks in the Indian Ocean with 239 people on board. A total of 20 aircraft and ships will resume scouring a massive area in the Indian Ocean some 2,000 km (Reuters)
"Even if the individual is not able to produce all relevant documents at that point of time, high value jewellery cannot be confiscated from that jeweller/person if no election campaign materials are found alongside with the jewellery consignment," Soni said.
GJF mentioned that a recent order issued by the election officer at Virudhanagar district in Tamil Nadu, in a case filed by Madurai-based listed company Thangamayil Jewellery, comes as relief to the jewellery industry.
The order dated March 25 observed that "as per the clarifications/guidelines issued by the Election Commission of India, determination of criminality can be resorted to only when any cash or object with an individual is transported along with banner/poster/voter slip/ any campaign material along with cash or gift for criminal purpose like bribery".
GJF said that after investigation, the district election officer found that the claimant Thangamayil Jewellery had not violated model code of conduct. It ordered the release of 3,036.7 grams of gold and 6,327.250 grams of silver, that was confiscated while transporting it from head office to branch offices in Tamil Nadu.
GJF represents over 6,00,000 players comprising manufacturers, wholesalers and retailers.