High inflation has arguably been the key factor that resulted in the UPA's drubbing in the elections and policymakers aver that they are looking at ways to curb it. However, that doesn't prevent them from keeping prohibitively high import taxes on food items that have seen an inexorable rise in prices in recent years and are still not free from persistent price pressures, reports fe Bureau in New Delhi.
The two biggest drivers of the protracted bout of food inflation — the 'eggs, meat and fish' and 'fruit and vegetables' segments — saw average annual WPI inflation over the last five years hit 17.2% and 12.8%, respectively, driving up the average food inflation during this period to 12.2%. Even a 12.5% average annual inflation in milk since 2009-10 has caused overall food inflation to soar further. Yet the import taxes on some such products have been as high as 100%, with most still attracting a 30% basic customs duty (which represents import tariff) despite a clear domestic shortfall.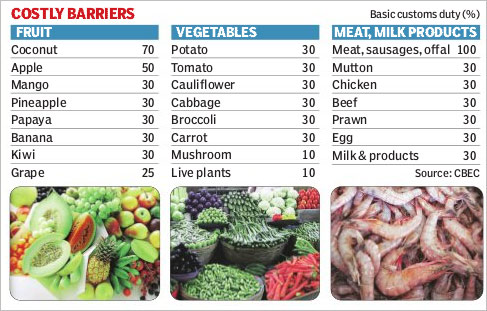 Former Commission for Agricultural Costs and Prices chairman Ashok Gulati has suggested the government trim import duties on food products — especially fruit, vegetables, dairy, meat and fish — to much lower levels of 10-15% so that the interests of farmers can be balanced with those of consumers, apart from offloading grains from official granaries and curbing the fiscal deficit to contain the price rise.
Cutting import duties has become even more relevant given the forecast of below-normal monsoon rains this year. Also, WPI inflation for eggs meat and fish rose to 12.47% in May compared with 9.97% in the previous month and in the case of fruits, the figure was a discomfiting 19.47% in May against 16.46% in April.
Analysts say that while the consumption patterns are changing and an upwardly mobile population is seeking more protein-based items, imposing import restrictions on such items is imprudent. Moreover, since 40% of fruit and vegetables in the country get wasted each year due to lack of farm sector marketing reforms and adequate infrastructure, it defies logic to impose such high import tariffs.