50% of big IT implementations (value greater than $ 15 million) have budget overruns by 45% and time overruns by 7% while delivering 56% less than projected return - a recent survey by McKinsey and BT Center for major program management at the University of Oxford. The survey conducted on 5400 projects revealed a total budget overrun of $66 billion – a big gaping hole the size of a small nations GDP. 17% of the projects go so bad that they threaten the existence of company.
The McKinsey - Oxford collaboration can have a sobering effect on future capacity expansions. It is a catch 22 situation: On one hand we have the markets stirring back to life  forcing capacity expansions and on the other hand  the McKinsey - Oxford collaboration painting a doomsday scenario of businesses going under due to massive IT budget and time over runs.
Ever since the recession reared its ugly head in 2009 businesses have been conservative in their CAPEX spending preferring to hoard cash rather than spend on IT and systems. Since it was a recessionary phase with systems running at under capacity it did not pose much of a problem but with the economy showing signs of picking up businesses need to rethink their strategy, now.  The diagram below shows how CAPEX spending has increased in 2014 hinting at economic revival.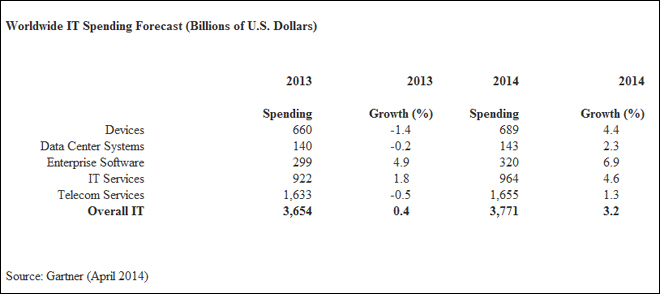 The own vs. rent is an integral part of this conversation. With so many options opening up in the enterprise segment - hosted servers, hosted PBX, hosted graphics capability - big onsite IT implementations may soon become a thing of the past with enterprises going for cloud solutions.
Cloud is the virtualization of the harder components of an IT system - server, cooling racks, routers - into a software interface. In business jargon, it is a move from CAPEX to OPEX, from premise based systems to business anytime and anywhere systems. Various enterprise cost savings are as follows -
Capital Cost Savings: No upfront CAPEX investment needed for setting up operations. Cloud telephony is a subscription based, pay as you go model where you pay for services used and not for any built up capacity that may or may not justify capacity expansion in the future.
Operational Cost Savings: No service costs, no costly updates. Updates are made automatically and the user has access to the latest version of the