Deferring a decision on hiking gas prices could cost the country dearly in terms of a higher foreign exchange outgo given the plans of exploration companies like ONGC and Reliance Industries will be delayed by close to a year. India imports around 30% of its natural gas needs and this is expected to grow to 42% by FY17 on a business-as-usual basis.
While the Reliance consortium had planned to invest $4 billion this year in the R-series fields, the three-month delay will mean no orders will be placed immediately. Since the original pricing decision should have been taken six months ago, the new delay means almost a full year's loss of production. While implementing the Rangarajan formula would have raised prices to $8-9 per mmBtu, prices of imports range from $12-16 per mmBtu.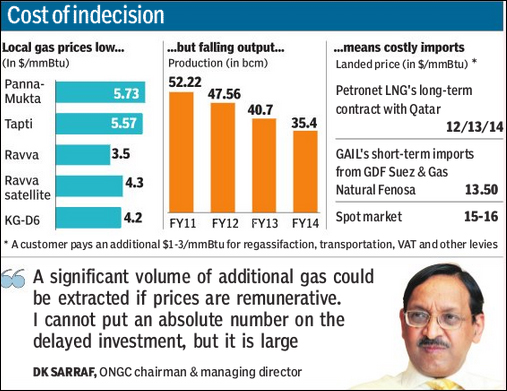 ONGC CMD DK Sarraf said that a "significant" volume of additional gas could be extracted if prices are remunerative. "I cannot put an absolute number (on the quantum of investment delayed) but it is significant," he said, although he added that given the complex nature of the issue, the government might have needed more time to take a call.
According to the PSU, the country's largest explorer, even a higher gas price of about $8 per million British thermal units (as against $4.2 now) is not enough to monetise more than a dozen hydrocarbon finds across its fields. For example, ONGC found two gas discoveries in the Mahanadi Basin but can take out gas from the area only when the price is at least $11-13/mmBtu, allowing 10% return on equity.
ONGC, which is preparing a field development plan (FDP) for its 9,800-sq km block KG-DWN-98/2 in the Krishna-Godavari Basin, would require not less than $8/mmBtu for it to be economically viable. The latest estimate shows that development of the first to be taken up northern segment of this KG Basin block would itself cost $5 billion and that of the full block almost double that amount.
The RIL-BP combine, sources said, would be unable to evaluate future projects given the uncertainty over gas price revision and, as a result, might refrain from sanctioning planned investments of close to $4 billion this year for the R Series development to bring to production nearly 1.4 trillion cubic feet of discovered resources. Overall, the partners' plan was to invest $8-10 billion in the