Pre-Budget euphoria gripped D-Street on Wednesday as Indian equities gained more than 1%, touching new lifetime highs. Finance minister Arun Jaitley's hawkish statement raised hopes of a growth-oriented Budget while positive global cues also boosted sentiment.
"India has to make a choice between mindless populism and fiscal prudence... Opportunity to grow comes with challenges," Jaitley had said at a function organised by Institute of Chartered Accountants of India on Tuesday.
The BSE Sensex gained 1.27% or 324.8 points to close at 25,841 points on Wednesday, advancing for a fourth consecutive session. The NSE Nifty gained 90.45 points or 1.18% to 7,725. Two days ago, the benchmark gauge Sensex marked the highest first half-yearly gain since 2009, with returns of 20% — the most since the first half of 2009.
India is currently the best-performing market in the world in 2014 so far, ahead of Asian and emerging market peers by a wide margin.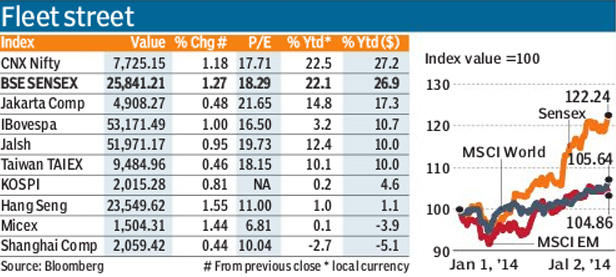 The Sensex is up 26.9% in dollar terms, beating China's Shanghai Composite (-5.10%), Taiwan Taiex (9.96%) and South Korea's Kospi (4.64%). Indonesia's Jakarta Composite (17.30%) is the only Asian market to come anywhere close to India. India's benchmark index has even left behind the US' Dow Jones (2.29%) by a significant margin.
Foreign brokerages continue to be bullish. "Despite the high burden of expectations, we expect the Modi administration's maiden Budget to surprise positively. Investors should expect to see sharp shifts in government policy biases, in line with the Modi government's announced priorities...," a Deutsche Bank report noted.
The report said the Budget could target key objectives such as shifting the bias of government policy from consumption to investment, raising the sustainable GDP growth rate by intensively promoting labour-intensive manufacturing and infrastructure investments and addressing fiscal imbalances through a combination of politically prudent subsidy rationalisation and raising non-tax revenues.
Overseas investors continue to shop for Indian shares; foreign institutional investors (FIIs) bought $218 million worth of equities on Wednesday, according to provisional data on the exchanges, bringing the year-to-date purchases to $10.3 billion.
Except for January, FIIs have been net buyers every month this year, with the biggest purchases in March of $3.7 billion.
A decisive mandate for the Narendra-Modi led
government has triggered hopes of a new, secular bull run in the country's equity market, which had remained subdued for the better part of the last six years. In