The C Rangarajan committee has re-estimated the incidence of poverty in the country. According to the committee's report submitted to the Planning Commission recently and made public on Monday, 29.5% of the country's population was poor in 2011-12 as against the 21.9% estimated by the Tendulkar committee which is also the official figure.  
However, the Rangarajan committee recognised a reduction in poverty incidence of 8.7 percentage points between 2009-10 and 2011-12, a tad steeper than 7.9 percentage points estimated by Tendulkar.  
Incidentally, the decline in poverty came when India's GDP growth slowed to 6.7% during 2011-12 from 8.9% in 2010-11 while job growth was sluggish. The economic situation has worsened further after 2011-12, with GDP growth plunging to a decade's low of 4.5% during 2012-13 and staying subdued at 4.7% last fiscal.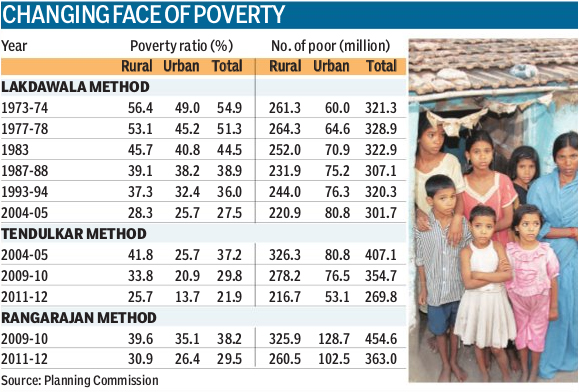 Rangarajan's estimates show urban poverty has come down from 35.1% (128.7 million) in 2009-10 to 26.4% (102.5 million) in two years and rural poverty has fallen from 39.6% (325.9 million) to 30.9% (260.5 million). The new method estimates that 91.6 million people (65.4 million in rural areas and 26.2 million in urban areas) have come out of poverty between 2009-10 and 2011-12.
While the previous estimate made by the Planning Commission on the basis of a method devised by a panel headed by Suresh Tendulkar showed the poverty level falling to 21.9% in 2011-12 from 29.8% in 2009-10 and 37.2% in 2004-05, there has been a debate over the unrealistic poverty line or the minimum accepted standard of living of R22.43 a day for rural and R28.67 for urban areas during 2009-10.
That prompted the previous UPA to take a fresh look at the way poverty was being measured and Rangarajan was asked to rework the poverty measures. In his report, Rangarajan said the new poverty estimate sought to address the "changed perceptions" regarding the minimally acceptable standards of living in the country.