The probe by the BCCI's anti-corruption unit chief Ravi Sawani into the IPL spot-fixing scandal has found cricketers Ajit Chandila, Ankit Chavan, S Sreesanth and Amit Singh guilty on multiple counts and the disgraced Rajasthan Royals players face bans ranging from five years to life.
Also Read: 'I am fully convinced that Sreesanth was part of the fix'
The BCCI's disciplinary committee meets in Delhi Friday to discuss Sawani's report on the scandal that shook India's Twenty20 league earlier this year. Sawani investigated allegations that Chandila, Chavan and Sreesanth had conceded a pre-determined number of runs per over in exchange for bribes during the IPL this year.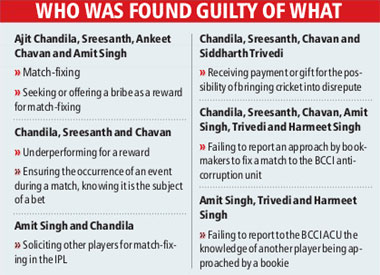 Former IPL and Gujarat player Amit Singh, who last played for the Rajasthan Royals in 2012 and was also arrested with the three others, was alleged to have discussed fixing IPL games with Chandila.
Also Read: 'Amit Singh appears to be the bad fish'
Sawani, who is learnt to have informed the players of his verdict three days ago, has in the report recommended that they be banned for a minimum period of five years and going up to life.
Also Read: 'Trivedi had been approached... but he failed to report'
BCCI sources said the disciplinary committee is likely to hand a life ban to Chandila and Amit, while Sreesanth and Chavan may be banned for between 10 and 15 years.
The Sawani report also pulls up Royals player Siddharth Trivedi for violations that could earn him a period of ineligibility, likely between one and five years. Royals left-arm spinner Harmeet Singh, who was a part of India's under-19 World Cup-winning squad in 2012, is expected to get a similar ban for failing to report that he was approached by bookies.
"The disciplinary committee may consider my report and impose such sanctions as considered appropriate to send out a strong signal indicating the zero tolerance policy of the BCCI to any corruption in the sport that is so dear to the million of Indians and fans abroad," Sawani urges
in the report, a copy of which has been accessed by The Indian Express.
Sawani had prepared an interim inquiry report based on evidence submitted by the Delhi Police in early June. Subsequently, the players were questioned and given a chance to clarify their positions. "I am of the opinion that there is sufficient evidence