With the Indian smartphone market growing at a fair clip, everyone wants a share of the pie. In fact, it seems the pie is large enough for everyone to have their fill. But all of them seem to be seeing the potential of the affordable smartphone category, with alarge chunk of feature phone users expected to upgrade in the near future. Pantel Technologies, which manufactures tablets and smartphones under the Penta branding, on Friday launched its Penta Smart PS501 is association with BSNL. Priced at Rs 6,999, this phone could be a good option for those using BSNL service in the non-metro cities. In this exclusive review, we look at whether the Penta Smart PS501 can stand out in the crowd?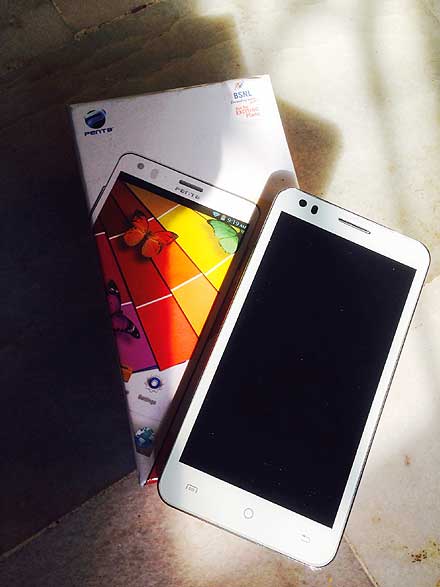 Design
The box might look like a 500-ml pack of Tropicana juice, but what really matter is the stuff inside, not the packaging. The Smart PS 501 is sleek and sports a sober look with a 5-inch IPS LCD capacitive display. A steel protective rim is installed on the front side while the back cover is moulded on the edges for proper grip.
The back camera comes up with a 'flash-light' but the only problem is that the flash is located below the camera and ends up burning the subject. The front camera is in the top left corner. The volume key is on the left and the power button on the right. The earphone jack and USB charger ports are all located on the top of the phone.
The speaker grille is also placed at the bottom on back of the smartphone with BSNL branding. The earphones are run of the mill and don't add anything extra even in terms of sound quality. In fact, the primary phone speakers are also not all that great.
Performance
The Smart PS 501 is basically aimed at those who can't afford anything costlier. And this phone manages that brief quite well, providing all the important features at a nominal price. Powered on, the phone has three,unique, wallpapers. It is not everyday that you see a phone will live, video and simple wallpapers out of the box. In live wallpaper option you can choose from the default list while video wallpaper allows you to set your favourite video as wallpaper but in silent mode. Though fun, this only ends up draining the battery faster than needed.
The touchpad is