We see earnings growth for banks sluggish at 4% year-on-year. Revenue growth is a challenge (9% y-o-y) despite healthy NII (net interest income) growth (15% y-o-y) primarily due to lower treasury income and higher provisions to meet the unhedged foreign exposure guidelines that will be implemented from this quarter. Sluggish loan growth due to a combination of cyclical and seasonal factors, NIM (net interest margin) compression and higher slippages will put pressure on non-banks as well.
Low treasury and high provisions to keep pressure on earnings: Q1FY15 earnings growth is likely to show a marginal improvement to 4% y-o-y from 2% y-o-y in Q4FY14, with public banks likely to report 7% y-o-y decline while private banks are likely to report 17% y-o-y growth. Lower earnings growth is primarily on the back of lower treasury income and higher provisions.
Revenue growth is likely to remain muted at 9% y-o-y due to weak treasury income but the impressive trend on NII appears to be intact (15% y-o-y for the sector and similar trends for public and private banks). Operating expenses growth is likely to remain high, especially for most public banks barring SBI, as they continue to build higher provisions for wage settlement and its consequent impact on retirement costs.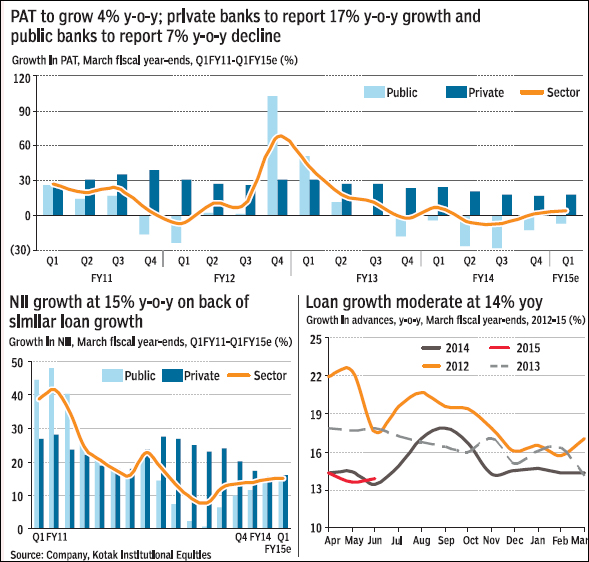 Regional banks like Federal Bank and Karur Vysya Bank are likely to report strong earnings growth (low base) while HDFC Bank will continue to deliver better earnings trend compared to ICICI Bank and Axis Bank.

Lack of hedging: The impact of unhedged exposure of borrowers is likely to impact earnings in the current quarter. While RBI has given a dispensation to ammortise the losses across four quarters, the quantum remains very uncertain both on provisions and its impact on capital adequacy ratios. The compliance requirement that is acceptable by the auditors and regulators is still uncertain. The impact could vary across banks given their exposure to customers with foreign currency and the customers' hedging policies compared to the size and profitability of each bank.

Impairment ratios likely to be stable q-o-q: We don't see any major change to the impairment ratios in the current quarter. Slippages and fresh restructuring could decline q-o-q but

there is a bit of seasonality to these issues.

With the formation of JLF (Joint Lending Forum), we understand that fresh restructuring has dropped sharply, especially through CDR (corporate debt restructuring) , but this