Telecom sector would continue to struggle on volumes vs margins
Factoring in recent weak industry trends, we have cut subscriber forecasts by 10-15% and cut topline estimates by 6-10% for FY13-14e. Consequently, Ebitda (earnings before interest, taxes, depreciation, and amortisation) also stands lowered by 6-10% for FY13-14e despite a tad better-than-expected margins posted in Q2. Our PO (price objective) stays unchanged at R90/share due to DCF (discounted cash flow) roll-over to FY14. We remain Neutral on the stock led by 11% Ebitda growth in FY14e and narrow valuation premium. Over the last three quarters (Q4FY12 to Q2FY13), Idea's Ebitda has stayed largely flat. In Q2FY13, Ebitda fell 1.3% quarter-on-quarter.
The overall picture on competitive position seems mixed based on latest results. Good news from lower channel payouts (SG&A—selling and acquisition expenses—fell 21% q-o-q) by the company was more-than-offset by weak average subscriber growth (+1% q-o-q), slippage in voice tariffs (-1% q-o-q) and continued high monthly subscriber churn (10.1%). Overall, we think both Idea & the sector will continue to struggle on volumes vs margins; growth surprise looks difficult.
Modest Ebitda growth ahead; policy risks remain high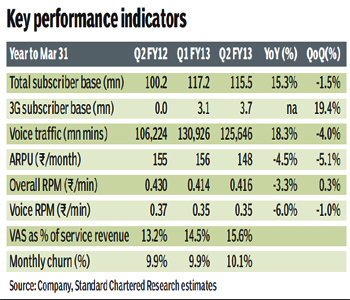 We expect modest recovery in Ebitda (+2-3% q-o-q) in next two quarters owing to seasonally better traffic volume, but potential drag from higher costs include recent hike in diesel prices. FY14e-Ebitda growth is forecast at 11%, led primarily by traffic growth. On the policy front, Idea's cash outgo towards re-bidding for seven cancelled licences & licence renewals could be $0.8bn in next two-three years, at reserve price.
Management call highlights
Idea's top management said its continuing strong 2G network investments reflect its strong growth outlook for the market. The company underlined that many peers in the sector are economically challenged so at some point tariffs will need to go up. Idea believes upcoming 2G auctions could trigger changes in the industry structure.
Q2FY13 result highlights
Idea reported consolidated Q2FY13 net profit at R2.4 bn, up 2.5% q-o-q. Topline contracted 3.5% q-o-q and Ebitda fell 1.3% q-o-q. Topline slowdown was higher than our expectations but Ebitda was in-line due to sharp cost cuts and headline net profit was a tad better than expected due to lower interest expenses.
Mixed picture on industry; push & pull continues
Based on Idea's Q2 results, the overall picture on competition seems mixed. SG&A per gross add fell 9% q-o-q indicating a possible recess in competition. However, voice tariff (rpm) fell 1% q-o-q and monthly