Indian Railways, looking to hike fares in the upcoming Railway Budget, will still trim its passenger revenue estimate announced in the interim budget, given an unforeseen dip in the number of passengers. The national transporter had to cut its revenue projections from the passenger segment last fiscal also despite a 20% fare hike in January 2013, due to the low growth in passenger volumes.
The railways is finding it difficult to explain the 18-million dip in passenger volumes in the first two months of this fiscal.
Given that there is already a huge cross-subsidy from freight — R26,000 crore last fiscal — that sustains its passenger business, the current trend is indeed alarming if it displays the high price-elasticity of the passenger segment. The railways' finances are in a shambles — its operating ratio stood at 90.4% last year, indicating there is not enough left for replenishment of infrastructure let alone modernisation and expansion. If freight rates are increased too much, it could adversely impact the economy by jacking up industrial costs and thereby fanning inflation.
As the railways faces the peculiar problem of a decline in passenger numbers, the Railway Board is all set to trim the passenger revenue projections in the upcoming budget. In the first two months of the current fiscal, the railways has seen its passenger number falling by 18 million over last year.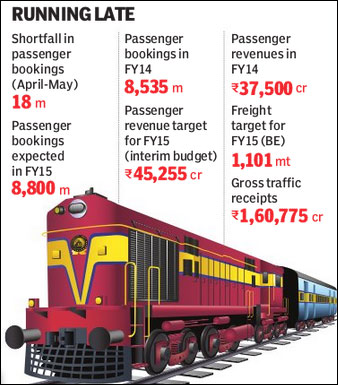 The national carrier expected its passenger bookings to be around 8,800 million in FY15 compared with 8,535 million in the last fiscal. However, it is already clear that the estimate is unachievable. In April-May 2014 (in any year, these months are normally the peak season for the railways), passenger bookings stood at 1,377.82 million compared with 1,396.03 million in the same period a year earlier.
In the interim budget for FY15 presented by the UPA government, the passenger revenue was seen at R45,255 crore, up R7,500 crore over the revised estimate of FY14. It may be noted the revised estimate for last year was 11% lower than the initially budgeted R42,210 crore.
The railways is expecting to partially make up for the passenger revenue shortfall by increasing the fares of air-conditioned classes and also by increasing reservation and cancellation charges, sources said. "It's a very strange problem that the (passenger) numbers have decreased during the peak the season. We are apprehensive that the number of passengers would