Constrained by limited resources, the railway ministry on Tuesday unveiled plans to seek Cabinet approval for allowing FDI in the sector through the automatic route. It also affirmed its commitment to the public-private partnership model to boost infrastructure.
Analysts, however, said the dismal record of investment by both foreign and private domestic players in the sector showed the enormity of the task ahead.
"The growth of the railway sector depends heavily on availability of funds for investment in rail infrastructure. Internal revenue sources and government funding are insufficient to meet the requirement. Hence, the ministry of railways is seeking Cabinet approval to allow FDI in the sector," railways minister Sadananda Gowda said on Tuesday while presenting the Rail Budget. He, however, clarified that no FDI will be allowed in railway operations.
"The Budget provides the much-needed strategic financial headroom required for the railways to enable it to make necessary critical investments for modernisation and expansion. The much-needed support for PPP as a significant source of investment capital is the backbone of providing the strategic financial headspace," said KPMG.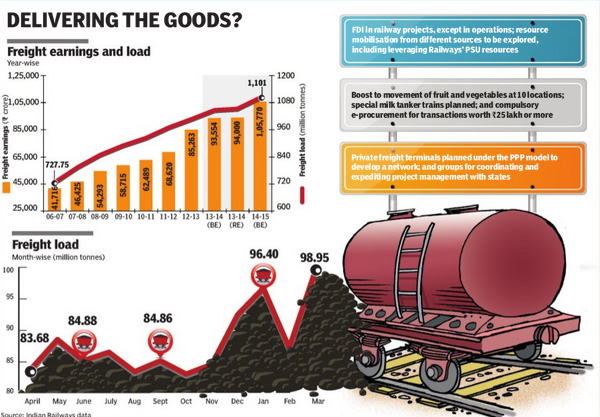 Even though FDI in railway infrastructure projects is already allowed under the FIPB route, hardly any investment has come in, barring one rail wheel factory and a couple of ancilliary units.
As a part of the resource mobilisation drive by leveraging railway PSU resources, the ministry proposed to launch a scheme to bring in investible surplus funds of public sector units in infrastructure projects of railways, which can generate attractive returns for the PSUs. Already, the railways' high operating ratio of 92.5%, budgetted for 2014-15, would constrain internal resource mobilisation.
The commerce and industry ministry has circulated a Cabinet note, proposing to allow FDI in high-speed train systems, sub-urban corridors and freight lines connecting ports, mines and power installations, for inter-ministerial consultations.
Gowda said a bulk of future projects would be financed through the PPP mode, including the high-speed rail, which requires huge investments, although he conceded that railways has not been successful in raising substantial resources through such route in the past.
"Railways will interact with industry and take further steps to attract investment under PPP through BOT and Annuity route and 8-10 capacity augmentation projects on congested routes will be identified for this purpose," he said. Zonal railways will be suitably empowered to finalise and execute such projects, he added.
In the 2013-14 Budget,