Though the colonial days ended long back, the fear of the foreign has come back to haunt a critical section of India's population, that is, its entrepreneurs. As they got badly hemmed in or pushed out of market after market by low-cost or research-savvy foreign rivals, India's entrepreneurs have emerged as one of the most concerned classes about foreign competition.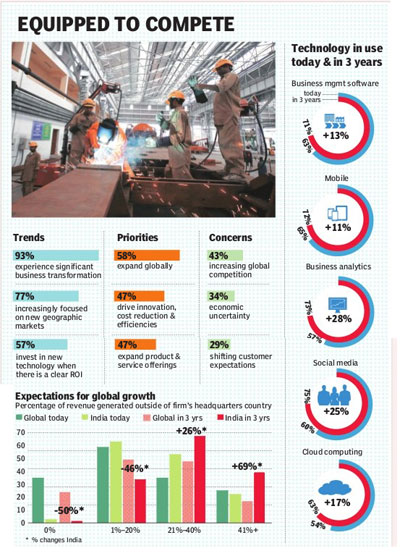 In a recent global survey, done by the UK's Oxford Economics for German technology firm SAP, 43% of Indian small and medium enterprises (SMEs) cited increasing global competition as the biggest issue affecting them, compared to the global average of 26%.
Economic uncertainty (34%) and shifting customer expectations (29%) were the second and third most concerns of Indian SMEs. Despite their anxieties about foreign competition in home turf, a neat 77% of Indian respondents said they are increasingly focussed on new market geographies and 58% said that global expansion is the key to their growth.
About 45% said innovation, cost reduction, efficiencies and expanding products & services, would be critical to future growth. Almost all the 100 Indian SMEs surveyed—out of 2,100 from 21 countries, including the US, the UK, Brazil, Mexico and South Africa—said they have global exposures, with only 2% respondents saying they generate no revenues outside the country today.
The survey, titled 'SMEs: equipped to compete', however, doesn't exactly fit the Indian concept of SMEs as it covered only SMEs with an annual turnover of $20m to $750 million. Of the Indian SMEs surveyed, roughly one-third (32%) had revenues of $20m–$99m; and 36% had revenues between $100m and $249m.
Global ambitions run deep among Indian SMEs that nearly a half (48%) of them expect to be generating 21-40% of their revenue globally in three years. Only 1% respondents said they would not generate revenues from overseas in the next three years. This, according to an Oxford Economics spokesperson, is an indication that Indian SMEs are perhaps the most globalised of all countries surveyed.
Investing in new technologies was a top strategic priority for Indian SMEs, including investing in business management software, data analytics, mobile, social media and cloud computing. A steep 93% respondents said they have either completed or are in the process of making a significant business transformation.
Commenting on the survey findings, Priyadarshi Mohapatra, vice president-ecosystem, channels & general business for SAP Indian subcontinent, said, "Recognising the opportunities for international expansion is clearly not 'new' to