Foreign institutional investors (FIIs) continue to remain bullish on the banking stocks with overseas investors hiking their stake to a 13-quarter high of 11.05% in State Bank of India and taking stake to an all-time high of 35.09% in Kotak Mahindra Bank.
Of the seven Bankex stocks that have released shareholding pattern for the June quarter, the overseas investors have cut their stake in two stocks. HDFC Bank and Bank of India have seen marginal cut of 0.15 percentage point and 0.36 percentage point, respectively.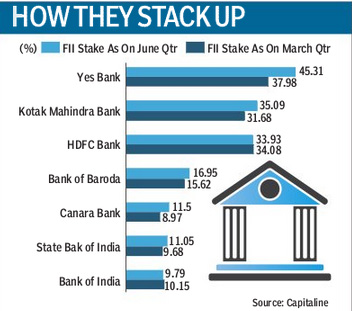 Meanwhile, FIIs' stake has risen the sharpest in Yes Bank from 37.98% from March quarter to 45.31% in June quarter. Kotak Mahindra Bank (3.41 percentage point), Bank of Baroda (1.33 percentage point), State Bank of India (1.37 percentage point) and Canara Bank (2.53 percentage point) are among other banks which have seen a rise in FII holding.
Foreign brokerages say the banking sector could see its revenue grow at 16.5% CAGR over the next five years. "We expect improvement in the economy to help drive higher credit demand. At the same time, banks will likely be more open to giving loans. This should help drive loan growth in India at 16.5% CAGR over the five years. The financial sector is materially underpenetrated compared to other Asian countries. As the economy picks up (higher per capita income), loans to GDP should increase to ~75% in five years and ~85% in 10 years, still one of the lowest penetrated banking sectors in Asia," Morgan Stanley analysts said in a report.
The BSE Bankex has given returns of 31.16% in YTD as against benchmark Sensex's gains of 19.17%. Among individual stocks, PSU names such as PNB (47.81%), SBI (42.52%) and Canara Bank (44.60%) have been the major gainers in YTD. Within the private sector, Federal Bank (47.50%), HDFC Bank (24.18%), Kotak Mahindra Bank (19.53%), IndusInd Bank (28.42%) have been among the major gainers in YTD.
Brokerages continue to hold the view that private banks would outperform their PSU counterparts, going ahead. "The recent rally from end-March has seen PSU banks outperform PVT by c25%. However, over the longer term, PVT have matched or exceeded PSU bank returns especially over the last two years. PSUs are now trading at 5-year average adj. book multiples discounting a pickup in the credit cycle, ROA and ROE, which appear a tad optimistic