With the launch of two low cost Firefox smartphones - Intex Cloud FX and Spice Fire One Mi-FX 1 in India, smartphone buyers have got a lot queries. From a layman's perspective, here's what you get and what you don't get in these two Firefox smartphones.
Also, be clear that Firefox has nothing to do with Android. Both are completely different operating systems.
The Intex Cloud FX and Spice Fire One Mi-FX 1 are 2G enabled smartphones and don't support 3G. On the connectivity front, both devices features WiFi, Bluetooth and USB tethering. Also, both handsets are very basic in nature with the only mission being to connect users to the Internet and social networking platforms. So, multimedia experience with both the handsets are pretty basic.
Here's what you need to know:
1) You don't need an email ID to operate Firefox OS. In Android, you need to have a Gmail account to access most features of the operating system along with Google Play. In Firefox, users are not required to enter an email ID to access the operating system. This makes sense given the fact that Firefox wants to connect the masses to the Internet without any barrier.
2) Using Firefox smartphones are relatively easy when compared to Android. First-time smartphone users will not encounter much difficulty in operating the OS. The call, messaging, contacts and Firefox browser icons are always present on screen and the experience is more like using the home screen of Android with swiping left and right giving to access apps.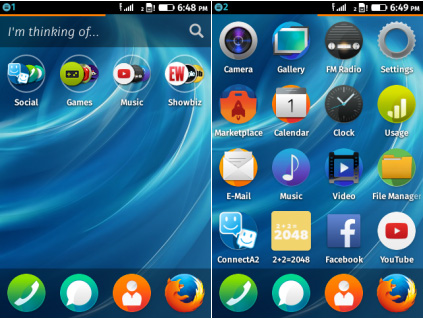 On the home screen, there's a bar showing "I'm thinking of…" through which users are directed to Google search. Accessing Internet on the Firefox OS is very simple and user-friendly.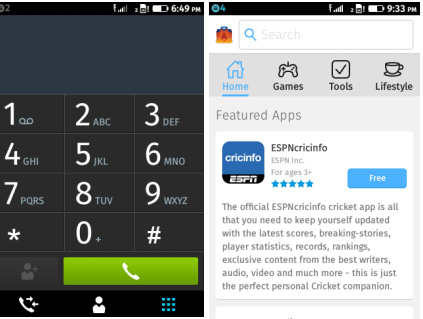 3) Firefox OS supports all major social networking apps like Facebook, LinkedIn, Twitter, Google+, Tumblr, Quora, Pinterest.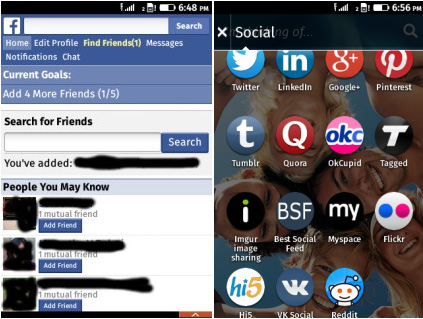 4) Very low internal memory. You will need a microSD card to start your multimedia experience with the device. So, if you don't have one, add the price of a microSD card to the cost. Both handsets support up to 4 GB of external memory.
5) WhatsApp is not available directly. Yes, you got that right. The official WhatsApp instant messaging application is currently not there in Firefox Marketplace. "Users can