The first phase of the Rapid Metro Rail in Gurgaon will become operational on October 2. The announcement was made in a review meeting attended by the Principal Secretary to Haryana chief minister, S S Dhillo, officials of the Gurgaon administration and Rapid Metro in Gurgaon on Thursday.
The Rapid Metro will be the country's first Metro rail system developed on a public-private-partnership (PPP) model at the cost of about Rs 1,100 crore.
The first phase will be 5.5-km long — from the Delhi Metro's Sikanderpur station to DLF Phase-III. It will have six stations — Sikanderpur, Phase-II, Belvedere Towers, Cyber City, Moulsari Avenue and Phase-III.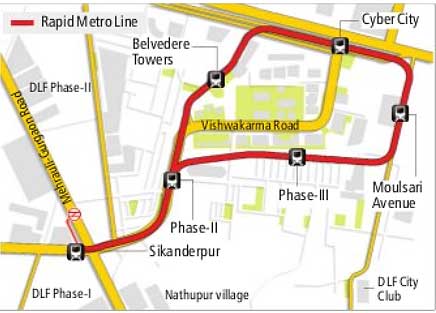 The Rapid Metro will connect to Delhi Metro via a skywalk at Sikanderpur station, thereby linking DLF cybercity to Delhi.
At Sikanderpur, separate Rapid Metro tracks will run below the DMRC line, before turning left to Vishwakarma Marg. From there, the Metro will proceed to Phase-II.
Making life simpler for office-goers, the rail will cross the workstation hub at Belvedere Towers Building 10, before moving along NH-8 crossing till Gateway Towers. The Metro station at the Gateway Towers will also cater to those headed to Udyog Vihar.
According to officials, the rail will move along NH-8 till Moulsari Avenue, near the Mall of India — this will cater to the residents of U-Block. The route will go via the Bund Road crossing DLF SEZ area, before reaching DLF
Phase-III.
Sanjeev Rai, Managing Director of Rapid Metrorail Gurgaon Limited, said: "The construction of the first phase of Rapid Metro has been completed and will commence in the first week of October (October 2). The construction work on the second phase — from Sikanderpur to Sector 55-56 — has also begun."
Rai said the first phase of the Rapid Metro will have five three-coach trains with a capacity to carry 800 passengers each.
The aluminum coaches of Rapid Metro, officials said, will be the lightest of all Metro trains in India. The light weight will ensure less noise — less than 80 decibel — and maintenance when compared with heavier Metro trains.
According to Rai, the Rapid Metro will have a common ticketing system with the Delhi Metro. This means that tokens and smart cards purchased on the Delhi Metro can be used on the Rapid Metro system as well.
This will ensure commuter convenience as commuters will not have to purchase multiple tickets. CCTV cameras have been installed at