At one go in Budget FY'13, the plan expenditure was raised by a massive 26 per cent in just one year. This put paid to any idea of a fiscal consolidation even as the growth rate of the economy had started slipping badly.
The increase by former finance minister Pranab Mukherjee alarmed the Vijay Kelkar committee to advise the government on a fiscal consolidation road map. The committee, appointed in September of the same year, advised finance minister P Chidambaram to roll them back.
Related: Indian rupee sinks to new low of 68.85, logs biggest single-day loss
"To carry out fiscal consolidation, it is required to correct this (high) base in the Twelfth Plan... The fund requirement for most projects envisaged in the Twelfth Plan may be highest in the middle of the Plan period."
As a result of the rise among others, the fiscal deficit was expected to shoot up to 6.1 per cent of the GDP after touching 5.8 per cent a year before. The finance ministry, after Chidambaram took over in August, had to drastically cut back all sorts of expenditure to end the year with a fiscal deficit of at 4.9 per cent.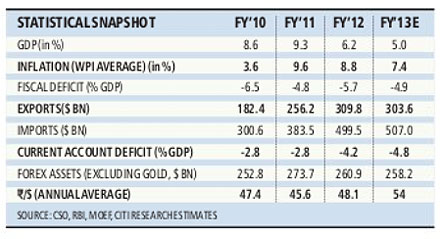 The earlier brinkmanship was, however, in line with the fiscal open-door policy practiced in the post-election years of the UPA-II government from 2009 to 2012. It was the last and the most extravagant, but continued a trend begun with a fiscal stimulus of Rs 1,86,000 crore in FY'10.
There were three fiscal stimulus announced to spur growth in the economy in the course of a year and a half and the effects lingered.
For instance, in FY'11 the economy grew by 9.3 per cent but the next year, as the rupee slipped from 45, the finance ministry under Mukherjee asked the RBI to extravagantly draw down foreign exchange reserves by $12.8 billion to fight it.
The rupee stayed at 48 to a dollar. In the last fiscal, the government has added to the reserves by $3 billion despite the rupee depreciating to 54 and so far in this year too the forex reserves are holding up despite a 27 per cent dip in the value of the rupee.
The evidence of fiscal brinkmanship is evident in other numbers too. Budget documents show that fiscal deficit, after dipping for just one year to 4.8