Rail Budget 2013: Railway minister Pawan Kumar Bansal has left basic passenger fares unchanged while marginally increasing reservation and other fees. However, travel by higher classes might turn expensive in the coming months thanks to increased segmentation and wider price differential likely between classes.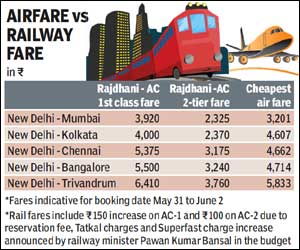 Bansal, who had hiked passenger fares across the board last month to net Rs 6,600 crore annually, on Tuesday said he does not want to pass on the impact of deregulation of diesel price and hike in electricity charges to passengers for the time being.
Though passengers would be shelling out more for train travel as the minister has marginally increased the supplementary charge for superfast trains, reservation fee, clerkage charge, cancellation charge and tatkal charge, average rail fares will continue to be cheaper than flight charges.
However, if you choose to travel first class AC on most Rajdhani trains, the fare will be nearly R800-1,000 higher than the cheapest air fares available to the same destination.
At the same time, the difference between AC two-tier fares and air fares remains high despite the recent discounts offered by various airlines on domestic routes.
On the lucrative New Delhi-Mumbai route, one-way fares for AC first class after the increased charges was R3,920 while air fares on the same route was around R3,201. But AC two-tier fares are more affordable at R2,325.
The travel industry was pleased that there was no increase in railway passenger fares.
"We expected that after recent increase of rail fare, there will not be any increase in the rail fares in the budget. It is good to see that there is no hike in fares," said Subhash Goyal, president of Indian Association of Tour Operators. However, he echoed the railway minister's concerns on the quality of services offered in trains.
Travel agents also said due to the high difference between air fares and second AC rail fares, people who can afford to have more travel time will continue to prefer railways.
"The cheapest airfares are nearly twice the cost of second AC fares and Third AC is even cheaper," said a travel agent affiliated to the Mumbai-based Travel Agents Association of India. "The difference has increased over the last year as airlines have raised fares and even the recent discounts by airlines haven't brought them down to rail fare levels. So, most rail travelers will continue to travel by rail and the absence of a passenger fare hike will only help to that effect."