A valuation of $7 billion on the back of a hefty fund infusion of $1 billion for a company that isn't even a decade old and, by its own admission, is far from turning in a profit anytime soon was a development worthy of making headlines globally. With the fresh funding, Flipkart, a seven-year-old Indian startup launched by college buddies Sachin and Binny Bansal, had become the sixth largest e-tailer in the world by valuation. Besides, it was also one of the largest investments raised by an online retail company anywhere in the world.
There were other interesting facets to the deal. For instance, it was mainly Flipkart's old investors who had yet again turned on the taps. "When they let $1 billion flow out of their reservoir, they are sending out a message that they are sure of the company's past, present and future," says Mohit Bahl, head of retail practice at management consultancy KPMG India.
Many also saw the development as Flipkart's resolve to fight it out with global giant Amazon that has made no bones about its ambition to be the leader in India's fledgling $2-billion online consumer retail market. Lending credence to the theory that the country's largest online retailer and the world's largest are getting ready for a war, came a declaration from Amazon founder Jeff Bezos himself that he will be pumping $2 billion into India.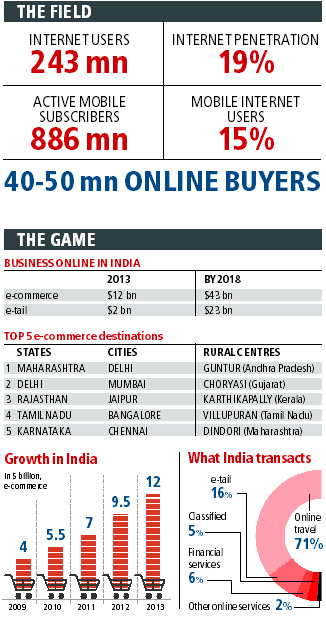 "Amazon entered India five years after Flipkart had established itself. Yet, it has built a business as big as that of Flipkart's in terms of logistics, sellers, products and categories. Its decision to invest $2 billion in India is a straightforward message that it has what it takes to win the game," says Mahesh Murthy, a serial investor and co-founder of venture capital fund Seedfund.
For their part, Flipkart and Amazon have maintained that their new investments are aimed at strengthening their presence in a market that is set to become one of the world's largest.
Big fish in growing pond
India is on the threshold of a digital revolution — this has been the refrain of every Internet entrepreneur and analyst in the country for the past one decade. Yet today, less than 20 per cent of the population has access to the Internet. While only 243 million Indians are online today, the new government has strengthened the hope of a