Just a week into his office, finance minister Arun Jaitley has said he will need to take tough measures to pull the economy out of the present trend of low and jobless growth. "India must prepare itself for this," he noted in a detailed Facebook post on Sunday.
The minister spelt out the warning saying the persistent slow down in economic growth coupled with high inflation "has a serious social consequence since (it) comes with a decade of jobless growth".
He noted containing this inflation, sticking to fiscal discipline and providing a boost to low-cost manufacturing were his key priorities as he gets down to prepare the NDA government's first budget, due just a month later, in a post he titled 'From celebration to challenge'.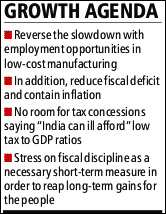 For pointers to how Reserve Bank of India Governor Raghuram Rajan would set the interest rates on Tuesday, the finance minister cryptically noted that he believed growth and price stability were intertwined, even though they "may require a different strategy".

His comments are significant because the new government would want to push all the levers for growth to speed up, but that could undermine the inflation vigil RBI has been maintaining.

While analysts expect Rajan to could hold key rates constant despite dismal GDP growth for FY14 at 4.7 per cent, Jaitley's comments indicate some softening of rates which will allow him to keep the fiscal deficit under control in the budget.

Suggesting that the mandate to Narendra Modi was to "pull the country out of the present economic situation", the finance minister signalled he will not give room for tax concessions. "Tax collections are at 10.1 per cent of the GDP compared to the initial budget estimates of 10.9 per cent.India can ill afford this trend."

Jaitley's prescription is going in for "fiscal rectitude as combination of monetary and fiscal policy".

"Slower GDP growth will imply lower tax buoyancy and higher fiscal deficit."

The frank assessment comes just a day before curtains drop around the finance ministry till the budget is tabled in July first week. The minister has consequently chosen the social media outlet to give an indication of his priorities. In an eloquent comment he noted his repeated stress on fiscal discipline in the short term as necessary for "long-term" gains for the people in the country.

The finance minister highlighted the second consecutive year of below 5 per