Proposals in the Union Budget presented by finance minister Arun Jaitley on Thursday are likely to dent the earnings of Coal India Limited (CIL) as it would be pushed to divert more than half the coal projected to be sold under lucrative e-auction route to the upcoming power projects.
This could affect CIL's earnings by over Rs 2,000 crore in 2014-15, putting further pressure on the company finances. The company's profit fell for the first time since the global financial crisis of 2008-09 in the last fiscal.
Presenting the Budget on Thursday, finance minister Arun Jaitley had said adequate coal will be provided to power plants that have already commissioned or would be commissioned by March 2015.
This would mean CIL would provide linkages to additional capacity of around 18,000 MW of unlinked capacity (captive and independent power projects) in addition to 78,000 MW of generation capacity with which it has signed the fuel-supply agreement under the government directive.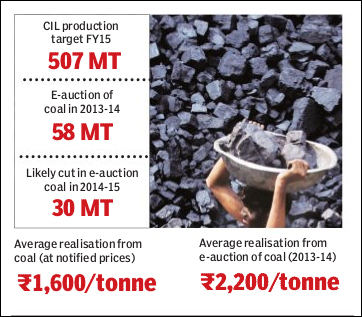 "If all the projects, including the unlinked ones, have to be provided coal, CIL will be left with no option but to lower the quantum of its proposed e-auction coal to meet the fresh demand," said a CIL official.
CIL sold nearly 58 million tonnes of coal, or 12.5% of its total production of 462 million tonnes, through spot e-auctions in 2013-14. This helped the company generate revenues of about R13,000 crore, which was R4,000 crore more. If e-auction of coal this year goes down by 30 million tonne, CIL's loss of revenue would be around R2,000 crore.
Sources in the coal ministry said that while meeting coal requirement of an additional 18,000-MW capacity would mean provision of 50 million tonne of fuel linkages annually, it may not entail diversion of entire proposed e-auction coal by CIL in 2014-15. As several power projects are not slated to need entire coal amount this fiscal, CIL could do with limited cuts in spot sales that could range from 25 mt to 30 mt per annum.
CIL is expected to produce 507 mt of coal in 2014-15. Nearly 430 mt of this will be provided to the power sector. For prior coal commitment, CIL would need 290 mt coal. The FSA with 78,000 MW of capacity coming on stream up to March 2015 will need additional 180 mt of coal,