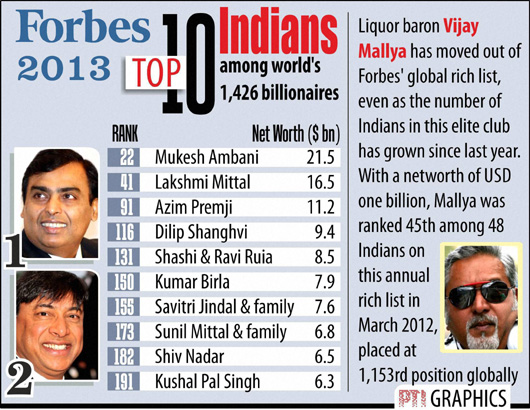 The total net worth of India's 55 billionaires has fallen marginally to USD 189 billion (over Rs 10 lakh crore) in the past one year, but even half of this amount exceeds the country's total fiscal deficit.
As per the annual list of world's billionaires, published by business magazine Forbes, India has 55 billionaires with a total net worth of USD 189.1 billion.
In comparison, India had 48 billionaires with collective net worth of USD 194.6 billion a year ago.
An analysis of Forbes rankings of Indian billionaires shows that just 10 richest from the country together command a total wealth of over USD 100 billion -- a figure higher than the estimated fiscal deficit of about USD 95 billion for the financial year ending this month. India's fiscal deficit for the year 2012-13 is estimated at little over Rs 5 lakh crore or 5.2 per cent of the country's total GDP.
Forbes has ranked Mukesh Ambani, with a net worth of USD 21.5 billion, as richest from India for sixth year in a row. While there are only three Indians in the global top-100, the overall list has 55 billionaires this year from the country. This number has grown from 48 in 2012. It was 55 in 2011 as well.
Lakshmi Mittal, the second richest Indian has a net worth of USD 16.5 billion, followed by Azim Premji (USD 11.2 billion), Dilip Shanghvi (USD 9.4 billion), Shashi & Ravi Ruia (USD 8.5 billion) and Kumar Mangalam Birla (USD 7.9 billion). Other Indians in the top ten are Savitri Jindal (USD 7.6 billion), Sunil Mittal (USD 6.8 billion), Shiv Nadar (USD 6.5 billion) and K P Singh (USD 6.3 billion). Uday Kotak, Micky Jagtiani, Cyrus Poonawalla, Adi Godrej, Anil Agarwal, Subhash Chandra, B L Munjal, Rahul Bajaj, Rajan N R Narayana Murthy, K Anji Reddy, MA Yusuff Ali, Vikas Oberoi, S Gopalakrishnan, Venugopal Dhoot, Rakesh Jhunjhunwala and Yusuf Hamied are also on the list.